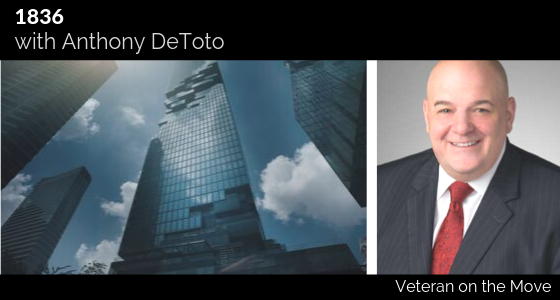 Podcast: Play in new window | Download
About this Episode
Army veteran Anthony Detoto from 1836 Veterans talks about networking and creating collisions with veterans and veteran business owners.  Texas veterans chase their entrepreneurial dreams. The group casts a wide net and will soon hear pitches in Houston, Dallas, San Antonio and Austin, but it is careful about whom they back. When they invest, though, the commitment is total.
Key Points of Discussion with Anthony DeToto
Anthony's transition from the Army to a civilian job

Significance of jobs in the Army and as a civilian

Lessons Learned

Networking

Family Offices

How do veterans self assess?
Key Milestones of this Episode
[01:11] Anthony's introduction
[03:12] Going to school at West Point
[06:24] How Anthony transitioned from the military to civilian sector
[07:43] Those who helped along the way
[10:37] Naive Networking
[15:50] Self Assess
[24:59] What is your value proposition?
Key Resources
Key Quotes by Anthony Detoto
"We always feel like we're not good enough for that threshold."

"So many of the civilian jobs are not going to make you feel as significant as the jobs in the Army."

"I wanted to touch a wider swab of people sooner."

"All I could do is promise them that I would help others that were in a similar position."

"1836 is a beachhead to help veterans find capital in all four of those different forms."

"If you want to get paid ask for money, if you want to get paid twice ask for advice."

"A veteran is a person who has written a check at least once in their life payable to the United States of America."
About our Guest Anthony Detoto
Anthony Detoto is Servant Leader, helping military veterans decide on entrepreneurship or intraprenuership.  As with all things military-related, DeToto built 1836's operations plan around an acronym: FISH, for the four types of capital every entrepreneur needs.
F is for financial. Funding can come in two primary forms, debt or equity. Should the business take on debt, and from where? Should the entrepreneur sell a share in the company, and to whom?
I is for intellectual. Every company is built around a product or service. But in a competitive market, new ideas are what make a company prosper or fail.
S is for social. Does the founder have the connections to get the business off the ground? Where are the customers, who are the advisers, and from where will the money come?
H is for human. Most businesses need more than one employee. Who is going to help run the business? 
About Our Sponsor
Bench Bookkeeping is this episodes sponsor.  Being an entrepreneur, bookkeeping is a necessary evil.  To put your bookkeeping needs on autopilot check out Bench Bookkeeping and get one month free at veteranonthemove.com/bench.
To hear more about Anthony's success, download this episode now.
Don't forget to leave us a 5-star rating and review if you enjoyed the show. We would love to hear from you!
Download Joe Crane's Top 7 Paths to Freedom or get it on your mobile device. Text VETERAN to 38470.  
Join the Veteran on the Move on Facebook!
Check out Veteran on the Move on Facebook to connect with our guests! It's a great place where you can stay in touch with other veterans who are transitioning to entrepreneurship.  Get updates and free gouge on the people, programs and resources to help you in your transition to entrepreneurship.
Veteran On the Move podcast has published over 250 episodes. Our listeners have the opportunity to hear in-depth interviews conducted by host Joe Crane . The podcast features people, programs and resources to assist veterans in their transition to entrepreneurship.  As a result, Veteran On the Move has over 1,000,000 verified downloads through Stitcher Radio, SoundCloud, iTunes and RSS Feed Syndication making it one of the most popular Military Entrepreneur Shows on the Internet Today.
Lorem ipsum dolor sit amet, consectetur adipiscing elit, sed do