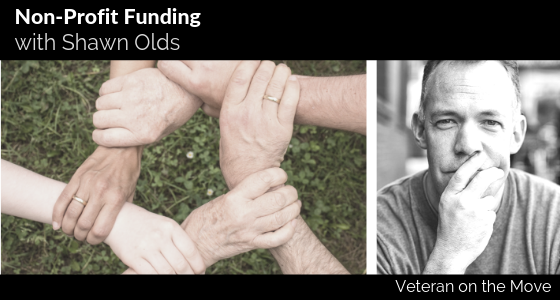 Podcast: Play in new window | Download
About this Episode
We talk with Shawn Olds, CEO of boodle.AI, a technology company built to improve fundraising efficiency. Shawn talks about his experience working with startups and nonprofits after leaving the military and how he leveraged at boodleAI. Shawn also gives "bootcamp" advice for veterans thinking about jumping into entrepreneurship or starting a nonprofit.
Key Points of Discussion
   

Why you should avoid the "entrepreneurial version of "keeping up with the Joneses"

   

The importance of strategically prepping your jump into entrepreneurship

   

How boodleAI improves nonprofits with technology

   

"Boot camp" advice for veterans wanting to be entrepreneurs or nonprofit owners
Key Milestones of this Episode
[1:00] Shawn's military experience
[8:13] Shawn's early experiences & why your startup shouldn't focus on unicorns
[14:40] The one business that got Shawn back into entrepreneurship
[17:48] What is boodle.Ai?
 [19:13] How boodleAi technology improves the matching process of fundraising
[27:58] What about veterans who want to start a nonprofit
[30:23] How is boodleAI evolving?
Key Resources
Key Quotes by Shawn Olds
"Before its activation, we were volunteered to be the first group of human group of wind dummies on the C17." 

"The word 'civilian' was not in my vocabulary."

"I was skewed in my mindset …[I believed] you either failed or became a billion-dollar startup."
About our Guest Shawn Olds
Shawn is a West Point Graduate, an Army Ranger who served in the 82nd Airborne Division. His career since leaving the Army has been focused on startups with continued service as a Board Member to various youth education and veteran service nonprofits. The only exceptions being a return to grad school and a return to government service after September 11th with the Counter-Terrorism Office at the Department of State. Three years ago he returned to the US after 8 years in the Middle East and Africa to build boodleAI which is a blend of tech start-up background and serving nonprofits.
About Our Sponsor
Navy Federal Credit Union is a member-driven credit union with over 8 million members and incredible benefits to support the financial stability of military families.
Visit navyfederal.org/veteranmove for more information.
Lorem ipsum dolor sit amet, consectetur adipiscing elit, sed do