Freelance Corporal with Brandon Childers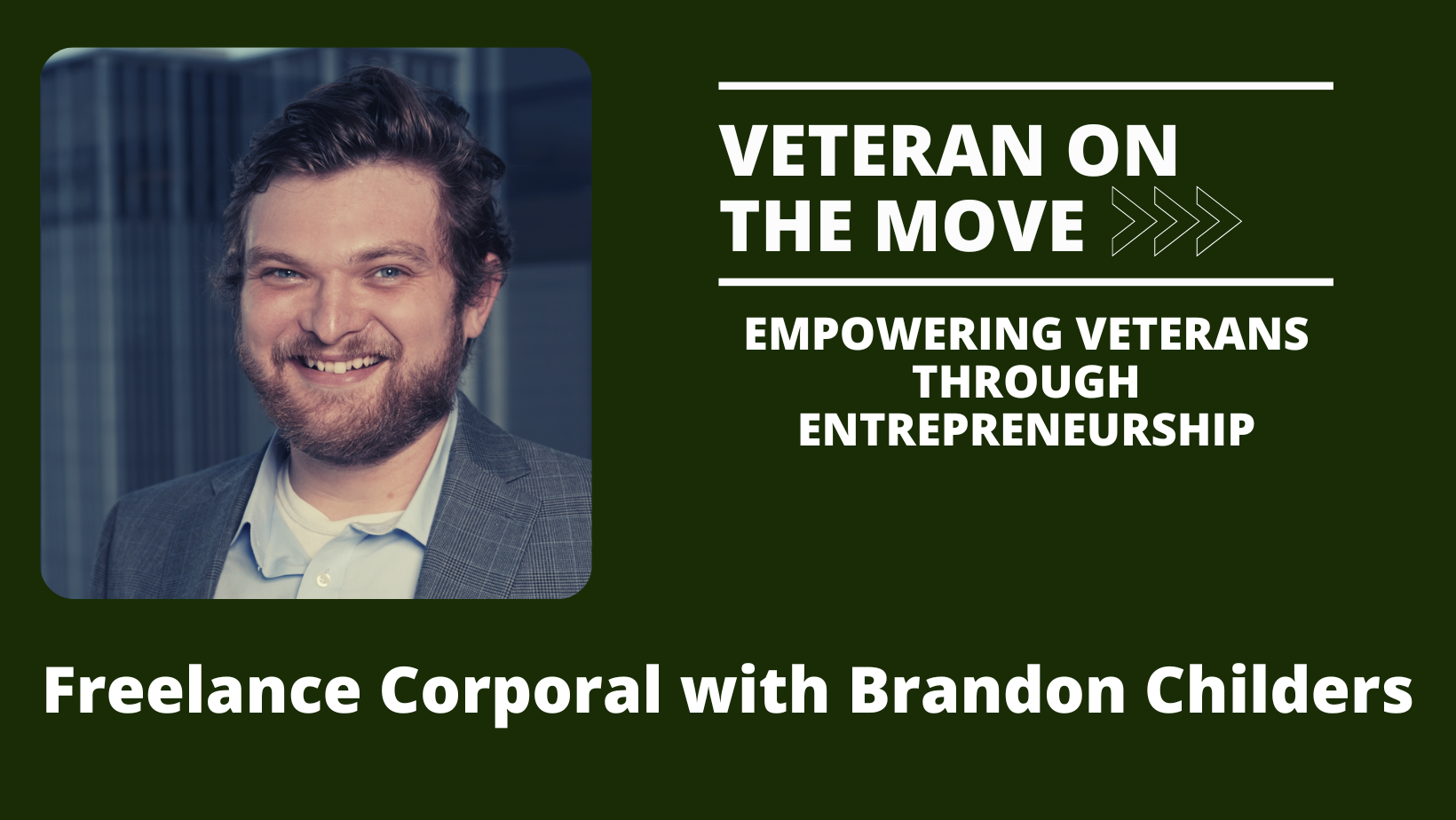 Podcast: Play in new window | Download
This week Joe is joined by Marine Veteran and founder of Freelance Corporal, Brandon Childers. Brandon served as a UH-1Y crew chief and after his enlistment entered college ultimately earning his Master of Science in Psychology. It was during his transition, he saw the need to bridge the gap between the veteran community and the resources available to them. Seeing poor money management as one of the challenges facing the military community that later impacts a Veteran's long term success, Brandon created Freelance Corporal. FreeLCPL is an interactive financial literacy app that helps users not only budget but see how much they can save by the end of their enlistment. Through gamification, users can earn rewards as they work towards their financial goals.  Find out more about Freelance Corporal here.
About Our Guests 
Brandon Childers is a husband, father, Marine veteran, and Founder of Freelance Corporal – Gamified Budgeting. After serving as a junior enlisted Huey crew chief in OEF, Brandon got out and used the GI bill to earn an advanced degree in psychology. Since graduating, he has been putting the findings to work in the veteran community.
Join the conversation on Facebook!
Check out Veteran on the Move on Facebook to connect with our guests and other listeners. A place where you can network with other like-minded veterans who are transitioning to entrepreneurship and get updates on people, programs and resources to help you in YOUR transition to entrepreneurship.
About Our Sponsors

Navy Federal Credit Union 
Buying a home can be stressful enough so it's great to work with a lender who already understands the special situation of military families. Navy Federal Credit Union is here to help military members and their families tackle homeownership.  Learn more at navyfederal.org
At Navy Federal, our members are the mission.  
Want to be our next guest? Send us an email at interview@veteranonthemove.com. 
Did you love this episode? Leave us a 5-star rating and review! 
Download Joe Crane's Top 7 Paths to Freedom or get it on your mobile device. Text VETERAN to 38470.
Veteran On the Move podcast has published over 430 episodes. Our listeners have the opportunity to hear in-depth interviews conducted by host Joe Crane. The podcast features people, programs, and resources to assist veterans in their transition to entrepreneurship.  As a result, Veteran On the Move has over 7,000,000 verified downloads through Stitcher Radio, SoundCloud, iTunes and RSS Feed Syndication making it one of the most popular Military Entrepreneur Shows on the Internet Today.
Lorem ipsum dolor sit amet, consectetur adipiscing elit, sed do