From Military to Millionaire with David Pere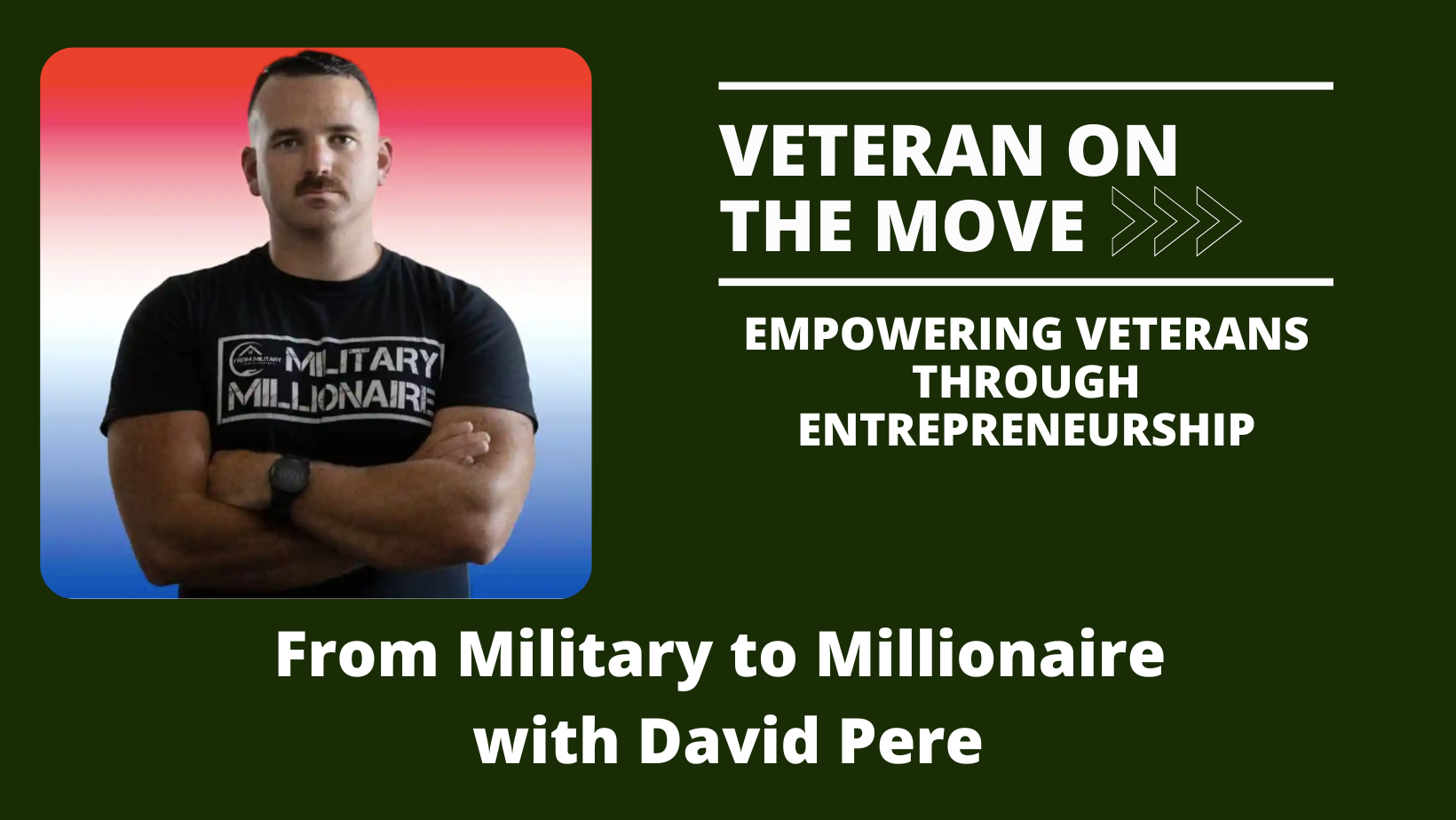 Podcast: Play in new window | Download
This week Joe is joined by Marine, author, and entrepreneur David Pere. David served on Active Duty for 13 years and continues to serve as a Reservist. In this episode, he shares with Joe how he started with house-hacking while on Active Duty and is now financially free with over 100 units in his inventory. Through From Military to Millionaire, David is teaching servicemembers how they can do the same and providing a community of support. His recent book, The No B.S. Guide to Military Life, is sharing his lessons learned for the youngest service members and how to strive for success both in and after the military. Check out David and From Military to Millionaire here.  
About Our Guests 
David Pere joined the Marine Corps in August of 2008. Since that time, he has lived in or traveled to many unique places around the world, including a combat tour in Afghanistan.
David got started in real estate investing in 2015. He house-hacked a duplex with the FHA loan and lived in it for a little while until getting married to his beautiful wife, Kimberly, and receiving orders to Hawaii. While stationed in Hawaii, David bought a 10-unit apartment in Missouri and has had continued success with real estate investing. Now, with over 100 rental units in his personal portfolio, David has achieved complete financial freedom!
Through these experiences, From Military to Millionaire was born, with the goal of teaching service members and veterans how to build wealth through real estate investing, entrepreneurship, and personal finance.
David is also the author of The No B.S. Guide to Military Life: How to Build Wealth, Get Promoted, and Achieve Greatness
Join the conversation on Facebook!
Check out Veteran on the Move on Facebook to connect with our guests and other listeners. A place where you can network with other like-minded veterans who are transitioning to entrepreneurship and get updates on people, programs and resources to help you in YOUR transition to entrepreneurship.
About Our Sponsors

Navy Federal Credit Union 
Buying a home can be stressful enough so it's great to work with a lender who already understands the special situation of military families. Navy Federal Credit Union is here to help military members and their families tackle homeownership.  Learn more at navyfederal.org
At Navy Federal, our members are the mission.  
Want to be our next guest? Send us an email at interview@veteranonthemove.com. 
Did you love this episode? Leave us a 5-star rating and review! 
Download Joe Crane's Top 7 Paths to Freedom or get it on your mobile device. Text VETERAN to 38470.
Veteran On the Move podcast has published over 430 episodes. Our listeners have the opportunity to hear in-depth interviews conducted by host Joe Crane. The podcast features people, programs, and resources to assist veterans in their transition to entrepreneurship.  As a result, Veteran On the Move has over 7,000,000 verified downloads through Stitcher Radio, SoundCloud, iTunes and RSS Feed Syndication making it one of the most popular Military Entrepreneur Shows on the Internet Today.
Disclosure: Some of the links above are affiliate links. This means that, at zero cost to you, I will earn an affiliate commission if you purchase via the link provided.
Lorem ipsum dolor sit amet, consectetur adipiscing elit, sed do