How to Sell Products on Amazon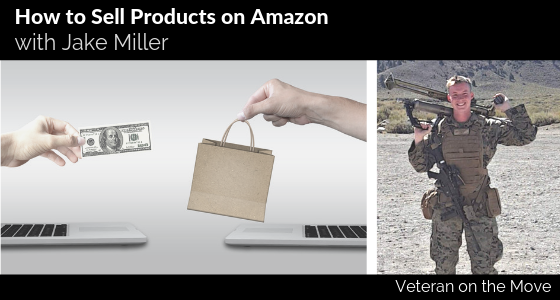 Podcast: Play in new window | Download
About this Episode
Jake Miller, a veteran Amazon seller, joins us on The Veteran on the Move Podcast; to discuss his amazon business growth after serving as a marine corp. Jack dived into Amazon sales, while active in the Marine Corps serving at Okinawa Japan.
Today, Jake Miller executes Amazon sales on both online and retail arbitrage on a full-time basis after he quit his military duties to follow the entrepreneurial path.
He credits his father for introducing him into Amazon sales. This introduction to sales sparked his interest in entrepreneurship, realizing that he wasn't willing to follow the military career route for a lifetime.
Jake started with a fitness apparel shop that never did well. But he takes great pride in the lessons from his business failures. These failures have enabled him to grow his business to where it is today.
Key Points of Discussion
Why selling on Amazon is an easy and pleasant way for people to make money.

Private Label vs. Online and Retail Arbitrage on selling on Amazon.

The factors that affect business productivity and sales on Amazon.
Key Milestones of this Episode
[01:49] Miller's backstory on the military career to transitioning onto sales.
[06:01] How Jake Miller started on Amazon.
[08:56] The lessons Jake Miller learned from his business failures.
[12:37]Why selling on Amazon can be a good source of secondary income for militants in service.
[14:15] Why Jake believes that Okinawa in Japan, was a good location for him to start his Amazon business.
[15:20] Why Germany is an ideal location to make money quickly by selling on Amazon.
[17:35] The amount of money Jake made in his first year of selling on Amazon.
[23:59] How working from home, co-working spaces and libraries can affect your business growth.
[25:41] Different ways on how you can source for products to sell to your customers.
[27:27] Jake Miller's story on how he made a mistake in sourcing for products ad how it affected his business.
[30:20] Jake Miller's products selling actively on Amazon.
[30:51] Why retail arbitrage can be a great way to make money fast on Amazon.
[33:17] Factors that influence pricing and availing products on Amazon, that you may not know.
[35:06] Retail arbitrage vs. Private product label sales on Amazon.
[37:00] The different software Jake uses to manage his Amazon sales.
[38:40] Jake's advice to people interested in entrepreneurship.
Key Resources
Key Quotes by Jake Miller
A big step towards growth is having your own space that you could go to, sit down and just focus. You've got no choice.

Amazon is so great because you can do it from anywhere, you can take with you. It's global.

Use what is around you and what you like and that's a great way to start your brand.
Sponsor
This episode is sponsored by the Junnell & Associates Law Firm.  Did you serve in the military between 2003 – 2015?  Did you wear 3M combat Version 2 (CAEv2) earplugs?  Were you diagnosed by the military as having hearing loss and/or tinnitus?  If so, Junnell & Associates want to talk to you. Please call 800.375.0109.  They want to help you like they have help thousands of others.
Lorem ipsum dolor sit amet, consectetur adipiscing elit, sed do