How to Start a Podcast Business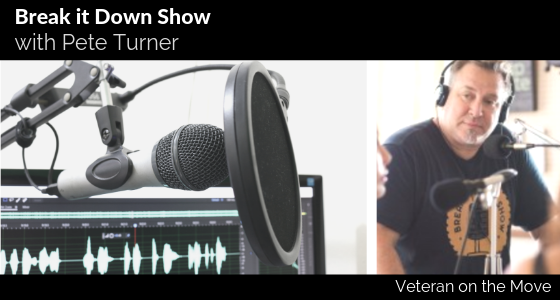 Podcast: Play in new window | Download
How to start a podcast business is what Army Veteran Pete Turner shares with us after after a rough transition out of the Army.  We talk with Pete Turner about counterintelligence, the struggles to building a career after transitioning out of the military, and the realities of launching your own profitable podcast business from scratch.  Pete not only started his own podcast business where he provides full production services for other podcasters but also is the host for his own podcast.
Key Bullet Points
    Life in counterintelligence: What it's like to be a spy?

    Finding a good job after your military service

    Building your own business from scratch

    Scaling your business from side hustle to main business muscle

    Monetizing your business
Key Milestones of the Episode
[1:14] Pete's time in the military
 [3:00] The problem of getting hired…especially as a veteran
 [11:15] Pete's dive and career pivot into podcasting
 [13:25] The mental struggles of transition
 [18:50] Growing a profitable business with your audience
 [21:30] The struggle of being a solopreneur
 [32:11} What advice would you give other athletes about transitioning out of the military
Key Resources
Other Resources
Echo in Ramadi: The Firsthand Story of US Marines in Iraq's Deadliest City
Generation Kill: Devil Dogs, Iceman, Captain America and The New Face of American War 
Key Quotes
"My transition story, like a lot of them, is really rough."
"I went from having the commander's ear…to carrying couches."
"My network was all warlords."
"What made me a great handyman was that I was great with the customers."
 "I became the #1 Taskrabbit in …all of the San Francisco Bay area."
 "I went from being extremely relevant…to being completely useless."
 "Everyday, I felt impending doom was over my head."
 "There's a lot of ways to monetize. It's just how do you pay the bills?"
Get in Contact with Pete Turner
Pete Turner is a former military counterintelligence spy who now works as a podcast consultant, co-host, security analyst, and executive producer of the Break it Down Show and several other podcasts. He is the co-founder and executive producer of Lion Rock Productions. 
About Our Sponsor
War Dragons is a powerfully awesome 3-D, real-time mobile game and over 150 that will take your world-building strategy to a level that you never imagined
Learn more at http://www.veteranonthemove.com/wardragons
Looking for another way to help veterans while playing War Dragons?  Check out this link: https://wardragons.com/blog/228/veteran-support-partnership-with-stack-up
Lorem ipsum dolor sit amet, consectetur adipiscing elit, sed do