iHeartdogs founder and Army Veteran Marshall Morris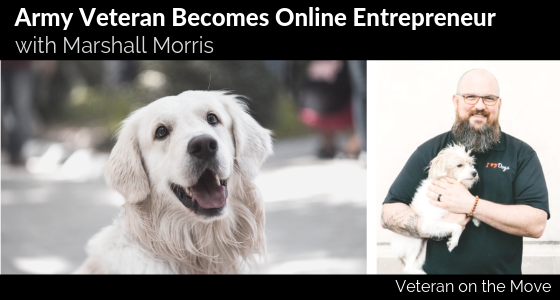 Podcast: Play in new window | Download
Marshall Morris is a serial internet entrepreneur and an Army Veteran who sold his first online company at the age of 28 for over 7 figures. Since then he has been actively involved in scaling profitable 7 and 8 figure internet based businesses that focus on high quality products and services that give back to humanity in a measurable way. His current company iHeartDogs.com , co-founded with partner Justin Palmer, has funded over 10 million meals to shelter dogs, donated over 100,000 toys to animals shelters and provided over $250,000 dollars to pair Veterans with service animals.
Marshall Morris- Army Infantry
Marshall was in the Army Infantry in 11 Hotel which is now 11 Bravo.  He wanted to go to college so he signed up for the National Guard so he could attend locally.  9/11 happened during right before his basic training. Marshall was from New York so when he returned from basic training he was immediately deployed active duty with top secret clearance to watch air bases in New York City against domestic terrorism.
"All my other friends went overseas.  So I had this guilt there for a long time because I didn't choose that destination.  But I got assigned it and I felt like I should be overseas." – Marshall Morris
Down Time Reading
While in the Army, Marshall had brutal hours when watching air bases.  They required him to work from 7pm until 7am so Marshall did a lot of reading that stimulated the brain.  Therefore, he focused on business books and discovered that you can create a hunger and a passion for things by just acquiring knowledge.
"I had read up all these successful people and I think that's knowledge.  It's such a great starting point, right to the next thing.  And also the other thing that I learned in the military was it's a mental game. Business is a mental game.  Um, you make it mentally or you don't make it mentally." – Marshall Morris
Transitioning
Marshall decided that when he got out of the Army that he was going to go straight into sales and not go to college.  He was going to apply the determination and mental game he learned in the Army and work hard and smart. As Marshall was doing well in his business he then transitioned into real estate in 2007.  Then he started his own company and 3 months in it fell apart.
"The whole world fell apart.  You know what I mean? So here's what happened.  I panicked for the next year I lived, I lost my mental game.  The situation I was in felt real.  And it's so easy when you rub up against something very real and painful and you just kind of retreat.  The next year was what I called my year in the desert because I literally didn't have a job. So went from earning and kind of building and investing and being brave and fearless to a different person." – Marshall Morris
Being Mentally Tough
Marshall spent time away from everything and eventually found himself going back to the principles of what he learned in the military.  He had to change his mindset and had to be prepared to win from the beginning and know he was not going to fail.  Marshall decided to become an expert at something people would pay him to do.
"So I learned a skill set and I applied it and we sold that company for seven figures three years later.  And it was like, okay, this is cool. It was an internet company. It was kind of like Auto-Trader. It was basically a company like that, cars online, things like that." – Marshall Morris
iHeartdogs.com
After selling his first business, Marshall continued to network and surround himself with successful people.  This ultimately led to starting the business iHeartdogs.com. In 5 years they have sold over 63 million dollars of revenue.  iHeartdogs.com sells products to people who have pets, who celebrate their pets.
"The only reason I've been able to do that is because I've been able to apply principles that really were taught and ingrained in the military.  Those principles of not giving up, those principles of having that mental age and game, believing in yourself, having confidence, moving with confidence." – Marshall Morris
To hear more about Marshall's journey, download this episode now.
Don't forget to leave us a 5-star rating and review if you enjoyed the show. We would love to hear from you!
Marshall Morris links:
Download Joe Crane's Top 7 Paths to Freedom or get it on your mobile device. Text VETERAN to 38470.  
Show Sponsor
"I have slept on the dirt, the green yoga mat and military cot many a night during my days in the military and now I sleep in lots of hotel rooms when I'm on the road.  So I know a good mattress when I see one. A few weeks ago we got our new GhostBed and let me tell you…..it's the best mattress I've ever slept on. We don't ever see ourselves going back to a traditional mattress." –  Joe Crane
What separates GhostBed Mattresses from the others?  They are found on the principle of delivering a bigger, better and more comfortable mattress at a lower cost.  GhostBed has three mattresses all designed to help you sleep better, they offer a 101 night hassle free return and amazing customer service.  GhostBed has over 20,000 customer reviews so you need to check them out at http://www.veteranonthemove.com/ghostbed
Join the Veteran on the Move on Facebook!
Check out Veteran on the Move on Facebook to connect with our guests! It's a great place where you can stay in touch with other veterans who are transitioning to entrepreneurship.  Get updates and free gouge on the people, programs and resources to help you in your transition to entrepreneurship.
Veteran On the Move podcast has published over 250 episodes. Our listeners have the opportunity to hear in-depth interviews conducted by host Joe Crane . The podcast features people, programs and resources to assist veterans in their transition to entrepreneurship.  As a result, Veteran On the Move has over 1,000,000 verified downloads through Stitcher Radio, SoundCloud, iTunes and RSS Feed Syndication making it one of the most popular Military Entrepreneur Shows on the Internet Today.
Lorem ipsum dolor sit amet, consectetur adipiscing elit, sed do