Episode #20: Jarrett Homann is the Founder of SoldierUP and is Empowering the American Veteran Community to Achieve Their Dreams of Entrepreneurship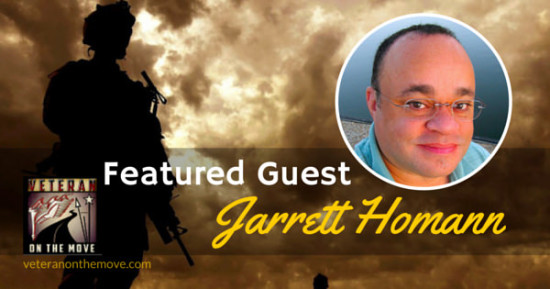 Let's start by saying what SoldierUP is not; it is not a handout, it is not a charity, it is not a pity party; instead it is a revolutionary approach using crowd-sourced solutions to empower the "American Veteran Community" to achieve their dreams of entrepreneurship, a Society-to-Veteran movement for entrepreneurship…SoldierUP is also a website where individuals and organizations can efficiently and effectively raise their profiles, strengthen their brands, create goodwill, grow their customers base as well as strengthen the US and local economies by investing their time and expertise to help veterans in their entrepreneurship, as they strive to find their new normal.
Jarrett Homann brings an array of skills and talents to SoldierUP.  He pursued his education at Southwest Missouri State University. He then became a Stock Broker and Financial Planner for several years working with Blue Chip Firms. Jarrett has also successfully founded and operated his own company for twelve years. In addition, after hurricane Katrina, he was the Chief Operations Officer of a multi-million dollar real estate investment company in New Orleans, Louisiana with a passion for helping to rebuild that city. As the Chief Executive Office, he brings knowledge and experience across multiple disciplines as well as creativity and vision to the company as it continues to evolve.
Lorem ipsum dolor sit amet, consectetur adipiscing elit, sed do