Leader Development with Army Veteran Noble Gibbens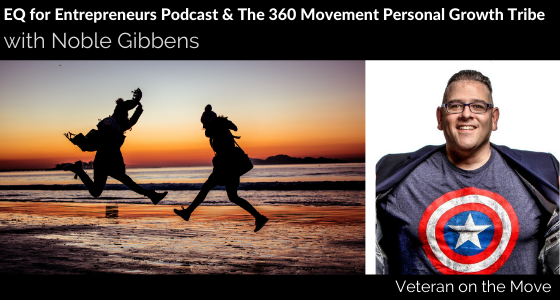 Podcast: Play in new window | Download
About this Episode
Today we are honored to host Noble Gibbens on the show. Noble is a West Point graduate, successful entrepreneur, speaker, personal mentor, and business coach who learns, lives, and breathes leader development. Nobel is the founder and president of several startups including the 360 movement. Tune into this episode to learn more about Noble Gibbens and his journey.
Key Points of Discussion
Nobles Gibben's life story

Failure; a professor

Getting out of the army and involved in the business

Job description for a successful entrepreneur

Advice for entrepreneurs

Doing everything by yourself

Advice for veterans
Key Milestones of this Episode
[01:06] Noble's life story
[03:15] Planning to get out
[06:06] Teaching kids not to be afraid of failure
[13:08] Experience of getting out of the Army
[17:07] Best advice
[19:26] Evaluating future opportunities
[27:17] Advice for new entrepreneurs
[33:56] Advice for veterans
Key Quotes
"Failure is a tool to maximize; not something to be avoided."

"How can you meet other people's needs like creating a business using the strength of God's giving you to make a better impact in this world?"

"There's no doubt that transitioning from your comfort zone to the unknown is brutal."

 "I tell a lot of entrepreneurs that entrepreneurship is like being a UFC fighter. Even if you're the greatest UFC fighter on the planet, they still get punched in the face and they don't freak out when they get punched in the face. They don't cry when they get punched in the face. They don't walk out of the ring. That is part of the job description."

"I don't recommend putting yourself in a situation like getting out of the military if you haven't even started your side hustle yet or without getting a job. You need seed money and a primary source of income while you are working your side hustle because there's no pain like financial pain."

"Failure is not an event. It's a lesson, it's a tool.  Learn from your mistakes and learn from those around you."
About Our Guest  
Noble graduated from West Point and was an Infantry Officer in the 82nd Airborne Division. From there he went on to become a serial entrepreneur being involved in over 10 different start-ups, of which many failed. He recently started a podcast called EQ for Entrepreneurs, runs an active Facebook group called The 360 Movement Personal Growth Tribe and is very involved in the Classical Conversations Homeschool Community.
Why 'A' Students Work for 'C' Students and 'B' Students Work for the Government: Rich Dad's Guide to Financial Education for Parents
About Our Sponsors

May is Military Appreciation Month, and Navy Federal Credit Union is proud to serve Active Duty military, veterans and their families.  During Military Appreciation Month, Navy Federal Credit Union is celebrating with special offers on car loans, credit cards, certificates and more.
Now, more than ever, we want to say thank you.
Join Navy Federal Credit Union in thanking service members during Military Appreciation Month. Show your appreciation with tweets, posts, captions and letters using #MissionMilitaryThanks.
Navy Federal Credit Union. Our Members Are The Mission.  
Navy Federal is Insured by NCUA.
Visit navyfederal.org/veteranmove for more information.
For 32 years, there has been a motorcycle demonstration on Memorial Day weekend to raise awareness of the critical issues facing our nation's veterans and demand action for the 82,000 service members missing in action.
On May 24, 2020, the tradition will continue through the Rolling to Remember Challenge. For the first time in ride history, we will also demand action for the 22 veterans who die by suicide each day.
Due to the COVID-19 health crisis and to protect the safety of the riding community, AMVETS announces the Rolling to Remember Ride Challenge in conjunction with REVER, a GPS-based motorcycle app.
Right now, you can go to rolling to remember dot com and sign up for the challenge, support ride efforts, get rolling to remember branded gear, and more. Again that's rolling to remember dot com. Continue the tradition with us, and we'll see you in May, 2021.
Don't forget to leave us a 5-star rating and review if you enjoyed the show. We would love to hear from you!
Download Joe Crane's Top 7 Paths to Freedom or get it on your mobile device. Text VETERAN to 38470. 
Join the Veteran on the Move on Facebook!
Check out Veteran on the Move on Facebook to connect with our guests! It's a great place where you can stay in touch with other veterans who are transitioning to entrepreneurship.  Get updates and free gouge on the people, programs and resources to help you in your transition to entrepreneurship.
Veteran On the Move podcast has published over 250 episodes. Our listeners have the opportunity to hear in-depth interviews conducted by host Joe Crane . The podcast features people, programs and resources to assist veterans in their transition to entrepreneurship.  As a result, Veteran On the Move has over 1,000,000 verified downloads through Stitcher Radio, SoundCloud, iTunes and RSS Feed Syndication making it one of the most popular Military Entrepreneur Shows on the Internet Today.
Lorem ipsum dolor sit amet, consectetur adipiscing elit, sed do