Liberty Mutual Valor Program with Eric Amstutz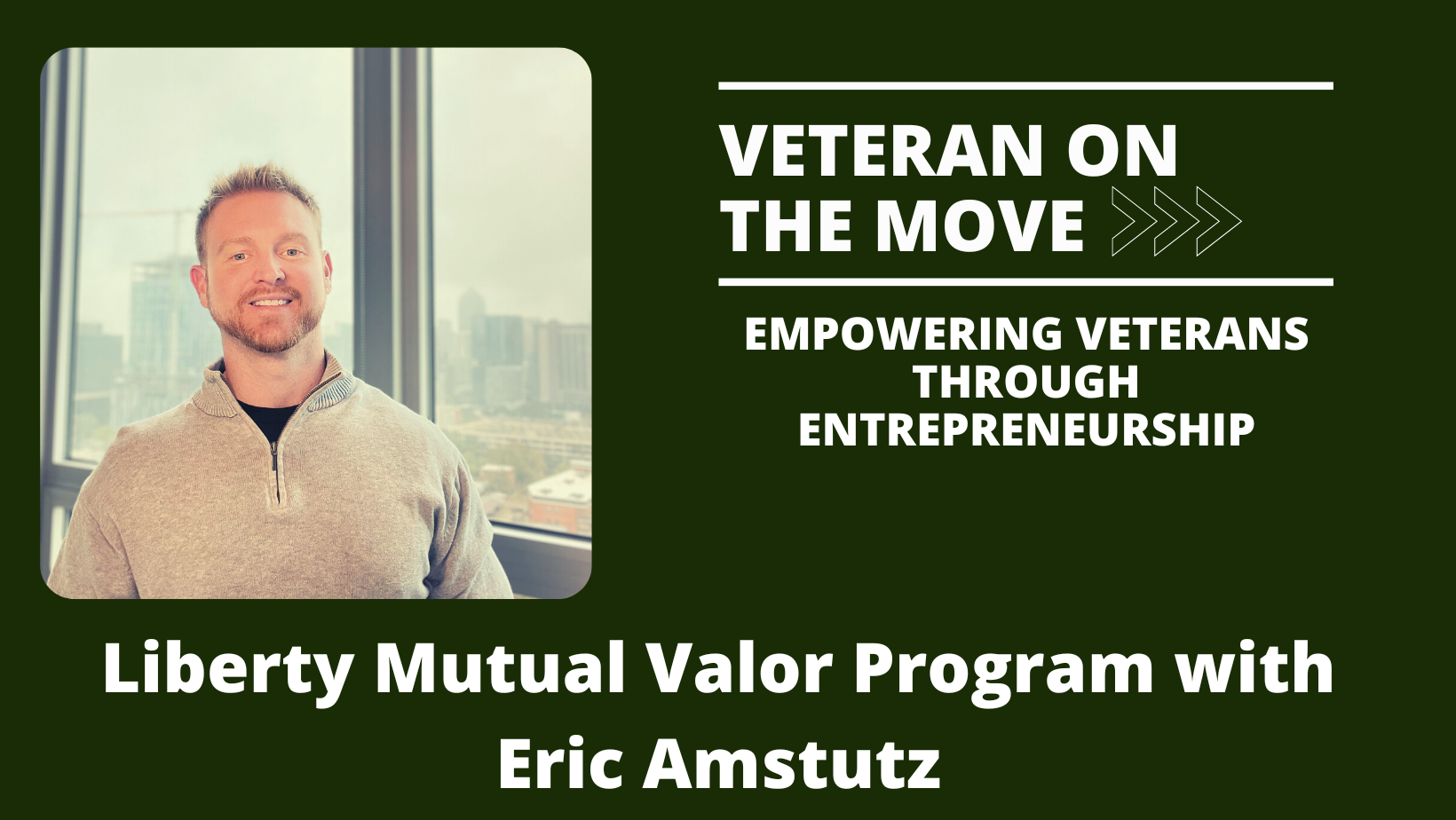 Podcast: Play in new window | Download
In this episode, Joe is joined by Army Veteran Eric Amstutz, a Director of Capacity Management, Property Claims at Liberty Mutual Insurance. Eric served in the Army National Guard for 19 years, 11 of those years with a dual career at Liberty Mutual. Eric is the national co-chair for Liberty Mutual's Veteran Group, Valor. Valor has 14 regional chapters supporting military members, Veterans, and spouses around the country. Eric shares details about Liberty Mutual's partnership with Hiring our Heroes that is available to service members while on Active Duty and other programs available through Valor. Learn more about Liberty Mutual here.
About Our Guest  
Eric Amstutz is a Director, Capacity Management, Property Claims at Liberty Mutual Insurance and the National Co-Chair for the company's Veteran DE&I Group, Valor, which is geared towards making a better work place environment for our Current Service Members and Veteran community. Eric served for 20 years in the United States Army National Guard as a Captain, Company Commander out of Forth Worth, TX.
Join the conversation on Facebook!
Check out Veteran on the Move on Facebook to connect with our guests and other listeners. A place where you can network with other like-minded veterans who are transitioning to entrepreneurship and get updates on people, programs and resources to help you in YOUR transition to entrepreneurship.
About Our Sponsors

Navy Federal Credit Union 
Take on this holiday season with the help of Navy Federal Credit Union. When you use the Navy Federal cashRewards card, you can earn up to 1.75% cash back on all purchases. You can redeem your rewards as soon as you earn them. And using the Navy Federal mobile app makes redeeming easier than ever. Enjoy the rewards of cash back without any annual fee, balance transfer or foreign transaction fees. There are no limitations on rewards, and they never expire while your account is open. Learn how you can get cheer to last all year with the cashRewards card at Navyfederal.org.
At Navy Federal, our members are the mission.  
Want to be our next guest? Send us an email at interview@veteranonthemove.com. 
Did you love this episode? Leave us a 5-star rating and review! 
Download Joe Crane's Top 7 Paths to Freedom or get it on your mobile device. Text VETERAN to 38470.
Veteran On the Move podcast has published over 460 episodes. Our listeners have the opportunity to hear in-depth interviews conducted by host Joe Crane. The podcast features people, programs, and resources to assist veterans in their transition to entrepreneurship.  As a result, Veteran On the Move has over 7,000,000 verified downloads through Stitcher Radio, SoundCloud, iTunes and RSS Feed Syndication making it one of the most popular Military Entrepreneur Shows on the Internet Today.
Lorem ipsum dolor sit amet, consectetur adipiscing elit, sed do