Ryder System, Inc with Todd Skiles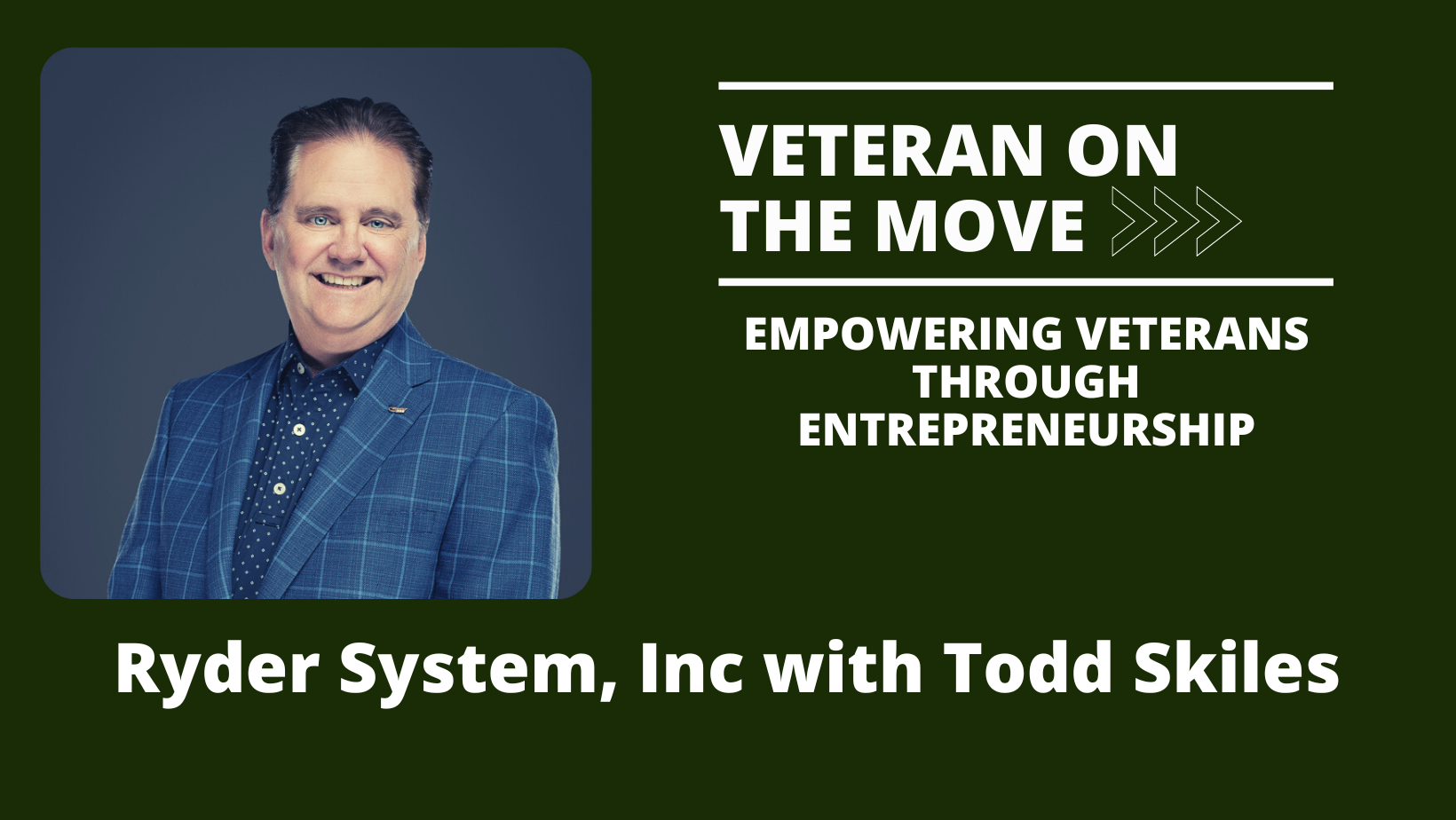 Podcast: Play in new window | Download
In this episode, Joe is joined by Army Veteran Todd Skiles, Senior Vice President of Global Sales and Supply Chain Solutions at Ryder System, Inc. Todd served in the National Guard and was activated during Operation Desert Storm. After his deployment, Todd returned to work at Ryder, where he is in his 36th year with the company. Todd shares with Joe how Ryder invests in Veterans, with programs that go beyond hiring. Ryder demonstrates its commitment to Veterans by creating a culture that fosters growth and community. Todd discusses his tips for transitioning service members and the importance of knowing what inspires you when looking for your next career. Learn more about Ryder System Inc and their Veteran programs here. 
About Our Guest  
Now in his 36th year with Ryder System, Inc., Todd Skiles, SVP of Global Sales and Supply Chain Solutions (SCS), has merged his civilian and military careers to help veterans find success and give their skills a new purpose back on the home front. Todd is a decorated U.S. Army war veteran, having proudly served as a Captain and Company Commander during the Persian Gulf War. By threading his service in the Persian Gulf War with his continued involvement with the Army Reserves, Todd can provide a valuable perspective on the benefits of military service for his corporate career, strategies for hiring todays veterans, and how business leaders can foster a culture of service in their companies..
Join the conversation on Facebook!
Check out Veteran on the Move on Facebook to connect with our guests and other listeners. A place where you can network with other like-minded veterans who are transitioning to entrepreneurship and get updates on people, programs and resources to help you in YOUR transition to entrepreneurship.
About Our Sponsors

Navy Federal Credit Union 
Partner up with Navy Federal Credit Union to pay down credit card debt. You could get a low intro APR on balance transfers with their Platinum Credit Card. t's their lowest rate card and it's a great tool to pay down debt.
Learn more at navyfederal.org. 
At Navy Federal, our members are the mission.  
Ten Thousand 
Ten Thousand is a men's performance activewear brand built for serious training. We are committed to making only the essential gear for men who prioritize function and simplicity. No BS. No gimmicks. We embody a stoic dedication to continuous improvement. Everyday faster, every day stronger, every day better than yesterday. We empower our community to focus on improving themselves physically and mentally. Our collection is focused on only the essentials – delivering you everything you need and nothing you don't. It is designed with function, durability and minimalism in mind. Gear should function at the highest level, last forever and go unnoticed so you can focus on getting back to your workout.
Go to https://www.tenthousand.cc and enter the code VETERAN to get 15% off today. 
Want to be our next guest? Send us an email at interview@veteranonthemove.com. 
Did you love this episode? Leave us a 5-star rating and review! 
Download Joe Crane's Top 7 Paths to Freedom or get it on your mobile device. Text VETERAN to 38470.
Veteran On the Move podcast has published over 460 episodes. Our listeners have the opportunity to hear in-depth interviews conducted by host Joe Crane. The podcast features people, programs, and resources to assist veterans in their transition to entrepreneurship.  As a result, Veteran On the Move has over 7,000,000 verified downloads through Stitcher Radio, SoundCloud, iTunes and RSS Feed Syndication making it one of the most popular Military Entrepreneur Shows on the Internet Today.
Lorem ipsum dolor sit amet, consectetur adipiscing elit, sed do