Meet Chicago Northwest with Mario Farfan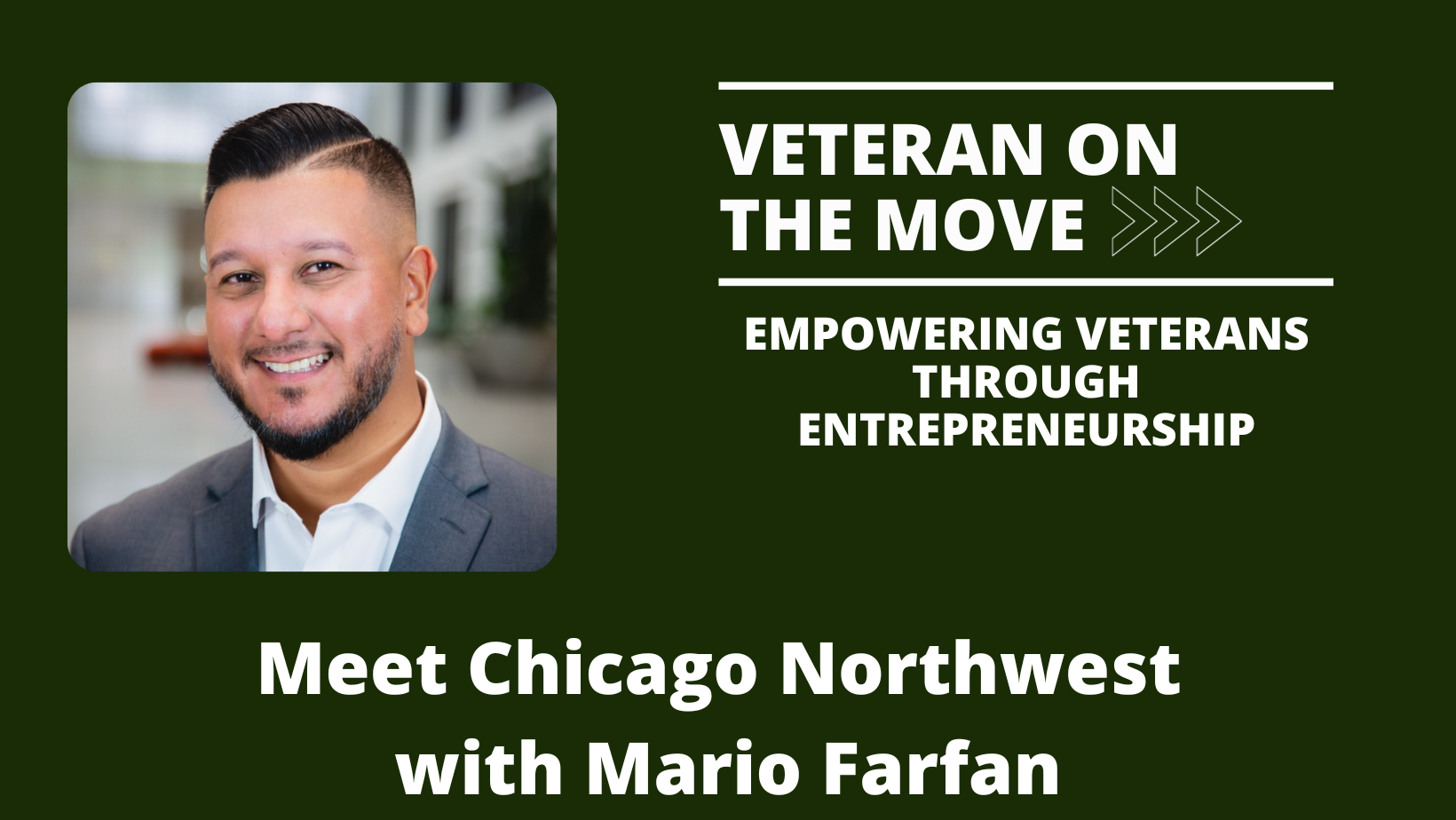 Podcast: Play in new window | Download
In this episode of Veteran On the Move, Joe is joined by Army Veteran Mario Farfan. Mario is the Group Sales Leader Account Executive of Group Sales at Meet Chicago Northwest. He transitioned from the Army and after attending college started a 20-year career in banking. Seeing the need in his local community, Mario started the Northwest Hispanic Chamber of Commerce. Joe and Mario discuss the power of networking and why Veteran entrepreneurs need to leverage local resources.  
About Our Guest   
Mario Farfan has over 22 years of community and business development experience working in key roles in banking including regional manager and branch manager throughout the markets of Chicago and surrounding suburbs as well as Milwaukee. He is also a U.S. Army veteran, proud dad of 4 and is committed to serving his community.
In 2015, Mario founded the Northwest Hispanic Chamber of Commerce. This chamber primarily serve Dupage, Kane, Lake and Suburban Cook counties with a direct focus on business development in the Latino market. The chamber continues to grow as Mario established for the chamber to serve its members who are business owners who get help in every stage of their business from startups to financial management for ongoing success and access to resources. Mario established strong relationships and connections with community leaders and associations in which the chamber partners with on a regular basis to provide the support that our local business owners can readily draw upon to help grow their business.
Mario's involvement in the CRA, BRG and Diversity boards has been one avenue to his dedication to these communities and continues to demonstrate his community knowledge and connections to create a larger impact. Most of the communities he has served in his career have been in the LMI or HM areas. These areas are close to his heart as he himself grew up in similar neighborhoods in Chicago.
.
Join the conversation on Facebook!
Check out Veteran on the Move on Facebook to connect with our guests and other listeners. A place where you can network with other like-minded veterans who are transitioning to entrepreneurship and get updates on people, programs and resources to help you in YOUR transition to entrepreneurship.
About Our Sponsors

Navy Federal Credit Union  
As a member-owned not-for-profit, Navy Federal puts members at the heart of every single thing that they do. With low fees and great rates, resources to help you crush your financial goals, and 24/7 access to stateside member service representatives with award-winning customer service. Members could enjoy:
-Earning and savings of $473 per year by banking with us 
-An average credit card APR that's 6% lower than the industry average 
-A market-leading regular savings rate nearly two times the industry average

Learn more: www.navyfederal.org/offers
At Navy Federal, our members are the mission.   
4Patriots Survival Food
Create your own stockpile of the best-selling 4Patriots Survival Food Kits.
Handpacked in the U.S.A. 

The kits are compact and stack easily.

They have different delicious breakfasts, lunches, and dinners.

And their 5-star reviews on the website rave about the flavor and taste
And right now, you can go to 4Patriots.com and use code VETERAN to get 10% off your first purchase on anything in the store. Including our emergency food supply kits designed to last up to 25 years!
Just go to 4Patriots.com and use code VETERAN to get 10% off your first purchase of 4Patriots Survival Food. 
Want to be our next guest? Send us an email at interview@veteranonthemove.com. 
Did you love this episode? Leave us a 5-star rating and review! 
Download Joe Crane's Top 7 Paths to Freedom or get it on your mobile device. Text VETERAN to 38470.
Veteran On the Move podcast has published 500 episodes. Our listeners have the opportunity to hear in-depth interviews conducted by host Joe Crane. The podcast features people, programs, and resources to assist veterans in their transition to entrepreneurship.  As a result, Veteran On the Move has over 7,000,000 verified downloads through Stitcher Radio, SoundCloud, iTunes and RSS Feed Syndication making it one of the most popular Military Entrepreneur Shows on the Internet Today.
Lorem ipsum dolor sit amet, consectetur adipiscing elit, sed do