Ocean View Stables with Zachary Leyden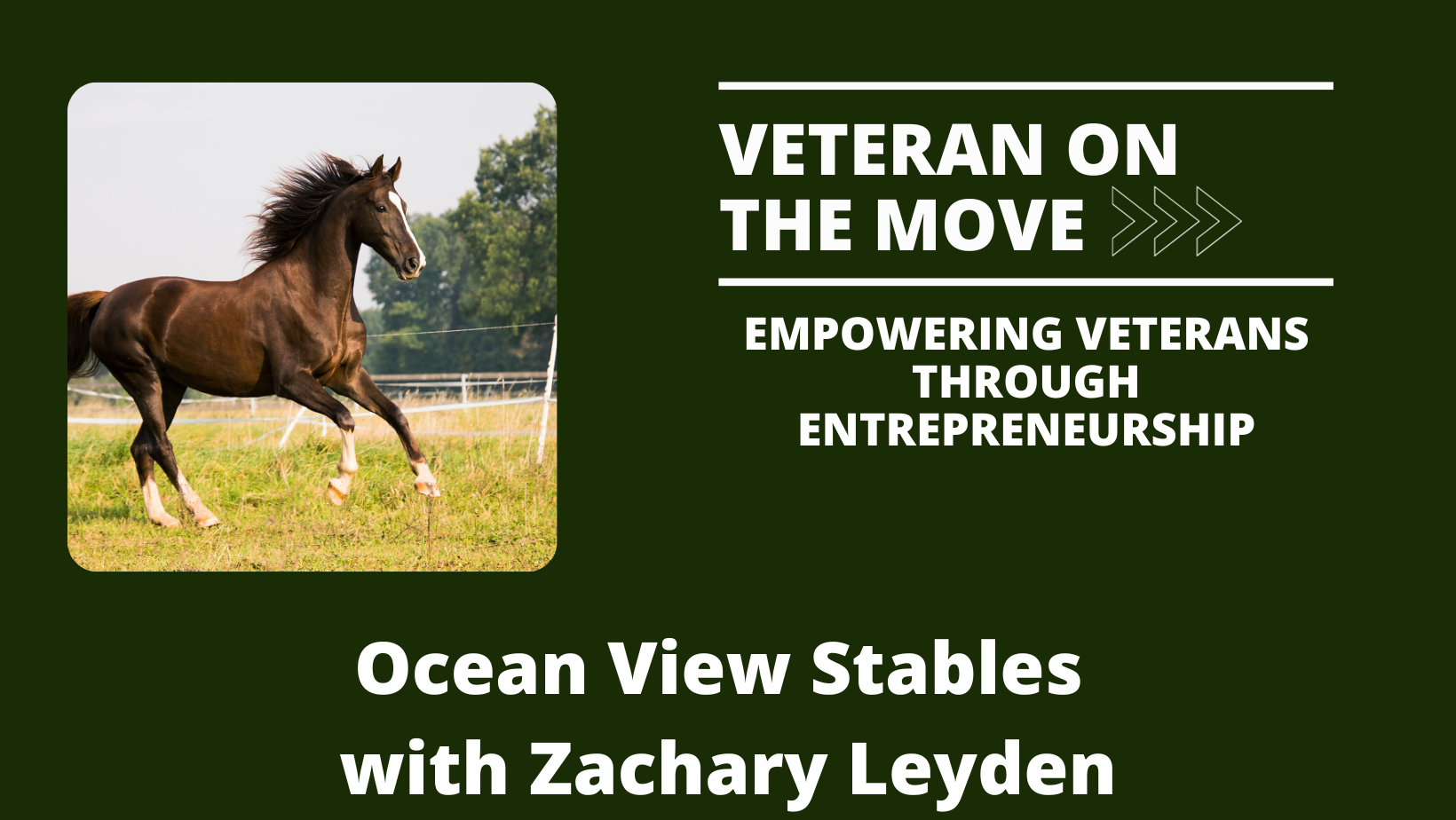 Podcast: Play in new window | Download
In this episode of Veteran On the Move, Joe is joined by Army Veteran and founder of Ocean View Stables, Zachary Leyden. Zachary served in the infantry and left Active Duty after returning from a deployment to Afghanistan. He attended college but struggled during his transition with PTSD and losing the strong sense of purpose that comes with military service. After a life changing connection with a Vietnam Veteran, he started working with horses and regained that sense of purpose. Joe and Zachary discuss the impact of teaching Veteran horsemanship and how he created a business model that can provide multiple streams of income while giving back to his fellow Veterans. Check out Ocean View Stables here. 
About Our Guest   
Zachary Leyden, a resilient and transformative individual, is our guest today. As a distinguished military veteran, he has found solace and renewal through his deep connection with horses, establishing a thriving horse recreation business. Zachary's dedication to helping veterans through horseback riding sets him apart. With a unique blend of technology, equestrian artistry, and business acumen, he offers invaluable leadership insights from his military service and entrepreneurial ventures. Join us as we explore Zachary's inspiring journey of entrepreneurship, horsemanship, and the world of coding.
Join the conversation on Facebook!
Check out Veteran on the Move on Facebook to connect with our guests and other listeners. A place where you can network with other like-minded veterans who are transitioning to entrepreneurship and get updates on people, programs and resources to help you in YOUR transition to entrepreneurship.
About Our Sponsors

Navy Federal Credit Union  
As a member-owned not-for-profit, Navy Federal puts members at the heart of every single thing that they do. With low fees and great rates, resources to help you crush your financial goals, and 24/7 access to stateside member service representatives with award-winning customer service
Members could enjoy:
-Earning and savings of $473 per year by banking with us 
-An average credit card APR that's 6% lower than the industry average 
-A market-leading regular savings rate nearly two times the industry average

Learn more: www.navyfederal.org/offers
At Navy Federal, our members are the mission.   
4Patriots Survival Food
Create your own stockpile of the best-selling 4Patriots Survival Food Kits.
Handpacked in the U.S.A. 

The kits are compact and stack easily.

They have different delicious breakfasts, lunches, and dinners.

And their 5-star reviews on the website rave about the flavor and taste
And right now, you can go to 4Patriots.com and use code VETERAN to get 10% off your first purchase on anything in the store. Including our emergency food supply kits designed to last up to 25 years!
Just go to 4Patriots.com and use code VETERAN to get 10% off your first purchase of 4Patriots Survival Food. 
Hello Fresh
 Ever wish you can spend less time planning, shopping, and cooking for the family and more time with them? From easy, time-saving breakfasts and family dinners to kid-approved lunches and snacks, HelloFresh has what it takes to keep everyone – including you – happy and satisfied.When you get HelloFresh, you know you're getting top-notch produce since it travels from the farm to your door in less than 7 days. 
Go to hellofresh.com/50veteran and use code 50veteran for 50% off plus 15% off the next 2 months!
Want to be our next guest? Send us an email at interview@veteranonthemove.com. 
Did you love this episode? Leave us a 5-star rating and review! 
Download Joe Crane's Top 7 Paths to Freedom or get it on your mobile device. Text VETERAN to 38470.
Veteran On the Move podcast has published 500 episodes. Our listeners have the opportunity to hear in-depth interviews conducted by host Joe Crane. The podcast features people, programs, and resources to assist veterans in their transition to entrepreneurship.  As a result, Veteran On the Move has over 7,000,000 verified downloads through Stitcher Radio, SoundCloud, iTunes and RSS Feed Syndication making it one of the most popular Military Entrepreneur Shows on the Internet Today.
Lorem ipsum dolor sit amet, consectetur adipiscing elit, sed do