Modernizing Laundry with Tumble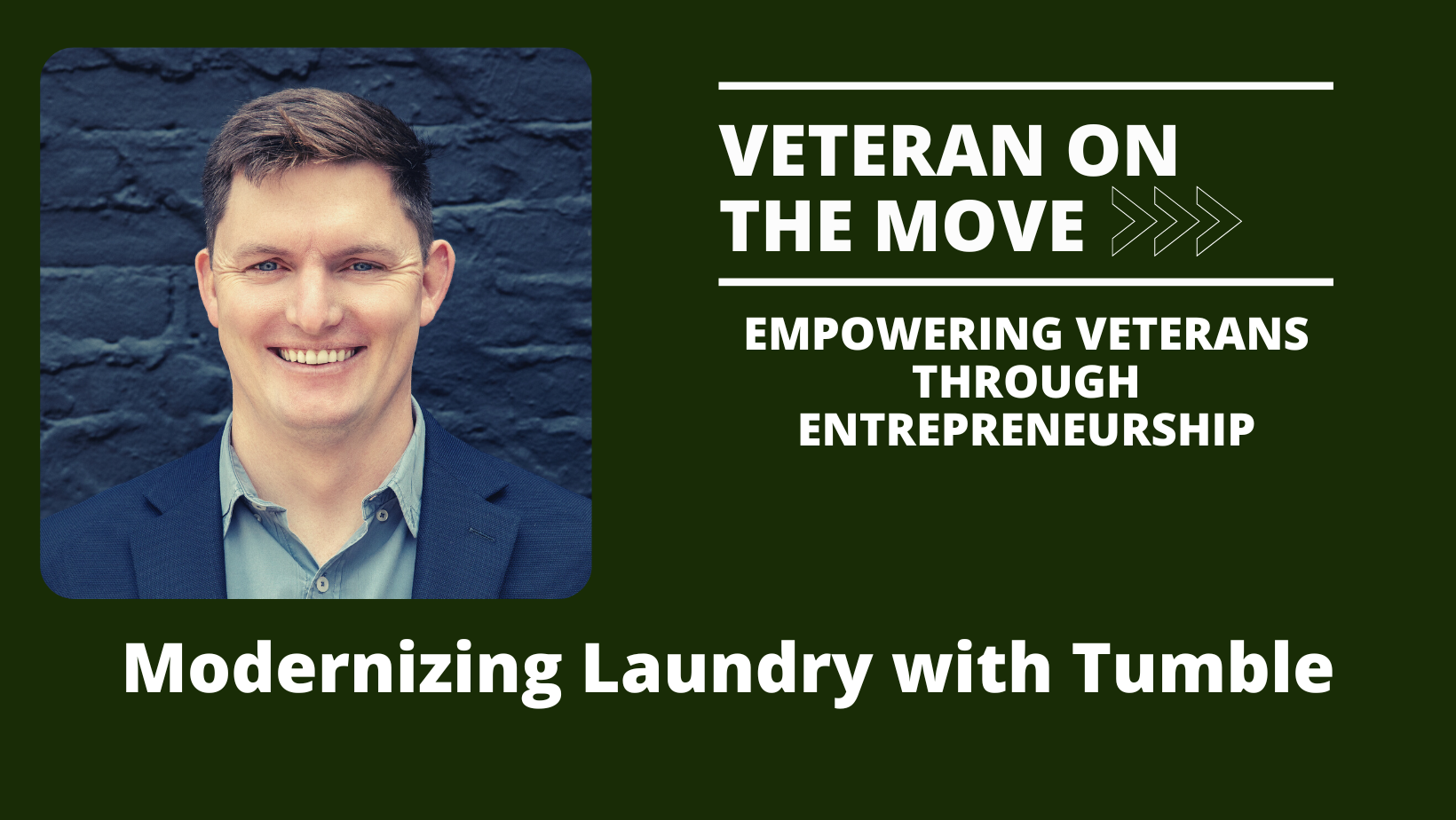 Podcast: Play in new window | Download
In this episode, Joe is joined by Scott Patterson, a Marine Corps veteran and the founder of Tumble. Scott served for 11 years in the Infantry before transitioning into the civilian sector. While staying with a friend in San Francisco, he became frustrated with the outdated and unreliable laundry set up in the apartment building and at his local laundromat. Scott shares with Joe how he entered the laundry industry and how Tumble is now in hundreds of buildings across multiple states. Check out Tumble here. 
About Our Guest  
Scott Patterson founded Tumble in 2019 with a mission to modernize the laundry experience. After serving 11 years in the United States Marine Corps, Patterson was trained to be diligent about his laundry. Upon leaving the marines, Patterson moved into a friend's apartment in San Francisco where he was shocked to see dirty laundry rooms with broken machines, stolen clothes and unreliable customer service. 
Coalescing his extensive military training with his passion for technology as a means to improve quality of life, Tumble was born with the goal of modernizing this highly-desired amenity. Tumble first launched in San Francisco in 2021 and has since scaled across California, with plans to be in 200 cities and 25 major metros by June 2023. 
Patterson's experience assembling highly-specialized teams has proven successful as he continues to identify and partner with experts in the field. As the organization's leader, his focus remains on product innovation, talent acquisition, partnership development and expansion efforts as the team continues to grow. 
Prior to starting Tumble, Patterson was an innovation designer at Accenture, in San Francisco, where he honed his skills across research and development, design and emerging technology. During his time in the United States Marine Corps, Patterson served first as unit infantry leader, where he acted as a senior enlisted advisor to the platoon commander and maintained accountability of all personnel. While at that post, he was awarded two Navy and Marine Corps Achievement Medals for superior performance. He later served as Operation Chief, where he consulted with the Commanding Officer, Executive Officer, First Sergeant and Company Gunnery Sergeant and coordinated all company operations for 160 Marines with higher levels of leadership at the battalion level.
Join the conversation on Facebook!
Check out Veteran on the Move on Facebook to connect with our guests and other listeners. A place where you can network with other like-minded veterans who are transitioning to entrepreneurship and get updates on people, programs and resources to help you in YOUR transition to entrepreneurship.
About Our Sponsors

Navy Federal Credit Union 
Veterans Day comes every year, but companies rarely thank veterans in a way that's meaningful and Veterans definitely deserve to be thanked in a meaningful way. At Navy Federal Credit Union, every day is Veterans Day. As a Navy Federal member for over 32 years I can tell you that they get the military. They offer resources like the VA Loans Hub" and "Best Cities After Service." They offer veteran employment assistance partnerships with nonprofits like The Mission Continues. They're a top VA Home Loan lender, offer personal finance counseling, and  offer 24/7 member service. They have a growing community of over 1.8 million veterans like you.  Learn more at navyfederal.org/veterans
At Navy Federal, our members are the mission.  
Want to be our next guest? Send us an email at interview@veteranonthemove.com. 
Did you love this episode? Leave us a 5-star rating and review! 
Download Joe Crane's Top 7 Paths to Freedom or get it on your mobile device. Text VETERAN to 38470.
Veteran On the Move podcast has published over 455 episodes. Our listeners have the opportunity to hear in-depth interviews conducted by host Joe Crane. The podcast features people, programs, and resources to assist veterans in their transition to entrepreneurship.  As a result, Veteran On the Move has over 7,000,000 verified downloads through Stitcher Radio, SoundCloud, iTunes and RSS Feed Syndication making it one of the most popular Military Entrepreneur Shows on the Internet Today.
Lorem ipsum dolor sit amet, consectetur adipiscing elit, sed do