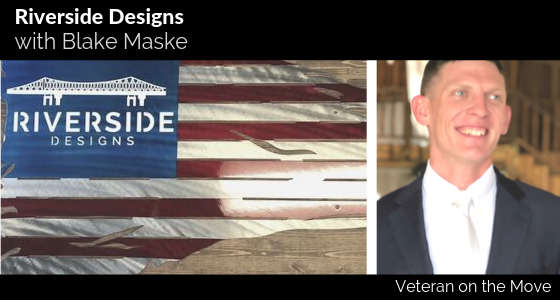 Podcast: Play in new window | Download
About this Episode
Army guard veteran Blake Maske talks about how he transitioned to entrepreneurship. Building a business from scratch has not been a walk in the park for him. It has taken a lot of sacrifice and hard work.
From a very tender age, Blake had an entrepreneurial spirit that many people always view as rebellious. He likes to do what people think he can't do.
One special thing about how Blake and his partner run their business is the handwritten letters. When did you last receive a handwritten letter? It's something super special for the customers.
Key Points of Discussion
Blake's journey into the army

Blake's entrepreneurship journey

Building a business from scratch

How to market a new business
 Key Milestones of this Episode:
 (00:00): Blake's introduction
 (01:12): Blake's journey into the army guard
 (03:57): Blake's entrepreneurship journey
 (08:31): Riverside Designs
 (25:10): Customers versus the quality of your product
Key Quotes by Blake Maske
"Money can buy you happiness. Money can help other people be happy. Money makes a lot of impacts if you use it right."

"You do right by people and at the end of the day, people do right by you."

"Going above and beyond than what the normal people do. That's what's going to get you to that next level."

"Your drive and work ethic to beat the guy next to you."

"Leave something better than when you came into it."
About Our Guest Blake Maske:
Blake joined the army at the age of 25. He is the founder of Riverside Designs. Having been in the military for some years, he borrowed a lot of things that he implemented in his business.
His way of conducting business is a little different from many entrepreneurs. One, he believes is word of mouth marketing. Two, he sends handwritten letters to his customers.
Connect with Blake
About Our Sponsor
Navy Federal Credit Union is a member-driven credit union with over 8 million members and incredible benefits to support the financial stability of military families.
Visit navyfederal.org/veteranmove for more information.
To hear more about Blakes's success, download this episode now.
Don't forget to leave us a 5-star rating and review if you enjoyed the show. We would love to hear from you!
Download Joe Crane's Top 7 Paths to Freedom or get it on your mobile device. Text VETERAN to 38470.  
Join the Veteran on the Move on Facebook!
Check out Veteran on the Move on Facebook to connect with our guests! It's a great place where you can stay in touch with other veterans who are transitioning to entrepreneurship.  Get updates and free gouge on the people, programs and resources to help you in your transition to entrepreneurship.
Veteran On the Move podcast has published over 250 episodes. Our listeners have the opportunity to hear in-depth interviews conducted by host Joe Crane . The podcast features people, programs and resources to assist veterans in their transition to entrepreneurship.  As a result, Veteran On the Move has over 1,000,000 verified downloads through Stitcher Radio, SoundCloud, iTunes and RSS Feed Syndication making it one of the most popular Military Entrepreneur Shows on the Internet Today.
Lorem ipsum dolor sit amet, consectetur adipiscing elit, sed do