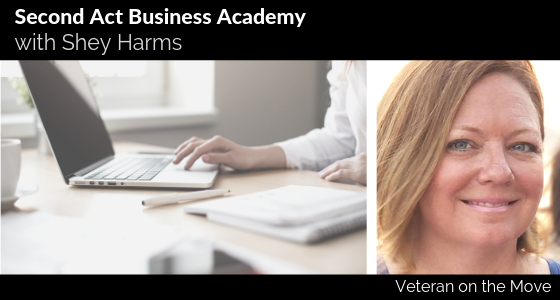 Podcast: Play in new window | Download
About this Episode
Many of us want to start an online business, but few of us know all that it takes to keep a business going. If you look at the latest Facebook or YouTube commercial, all you need is one course and you'll get millions. 
Real online business isn't like that.
That's why we spoke to Shey Harms, owner of Second Act Business Academy about navigating all of the twists and turns of running an online business. Shey shares her own journey through entrepreneurship from podcasting to coaching and provide real-world advice about what you need to become an online business success.
Key Points of Discussion
   

Entrepreneurship on Your Time-Shey's self-built route to entrepreneurship

   

Starting an online business when you're not tech-savvy (or don't want to be)

   

Course vs coaching: How to get the education you need to learn

   

The challenges of working with tech as an entrepreneur

   

The ongoing challenge of
Key Milestones of this Episode
  [1:00] Shey's start in college…and how she ended up an entrepreneur
  [2:11] Shey's journey into podcasting
  [6:19] What did you learn from podcasting?
  [8:10] The origin story and mission of Second act Business Academy
 [13:00] Getting too bogged down in the details of your business
 [16:35] Learning as an entrepreneur
 [23:25] Once you build a website, what else do they need?
Key Resources
Other Resources
Key Quotes by Shey Harms
"It just seemed like computers were my thing." 

"Somewhere along the line my true roots of being an entrepreneur kept calling me."

"I have clients tell me that they are literally afraid that they are going to break the Internet, if they publish a post…"

"You shouldn't have ten fonts on a page."

"Tech is tech, Things just  break."

"Tech happens."

"That's the challenge of tech: It's always changing."
About our Guest Shey Harms
Shey has been a computer programmer in the corporate world for the past 30 years. She has had 5 different podcasts and created a few dozen websites for herself and clients. Now she is focused on helping people who want to change the second half of their lives by teaching tech skills they need to start or grow an online business, through her podcast and business academy.
About Our Sponsor
Navy Federal Credit Union is a member-driven credit union with over 8 million members and incredible benefits to support the financial stability of military families.
Visit navyfederal.org/veteranmove for more information.
Lorem ipsum dolor sit amet, consectetur adipiscing elit, sed do