OnTrajectory with Tyson Koska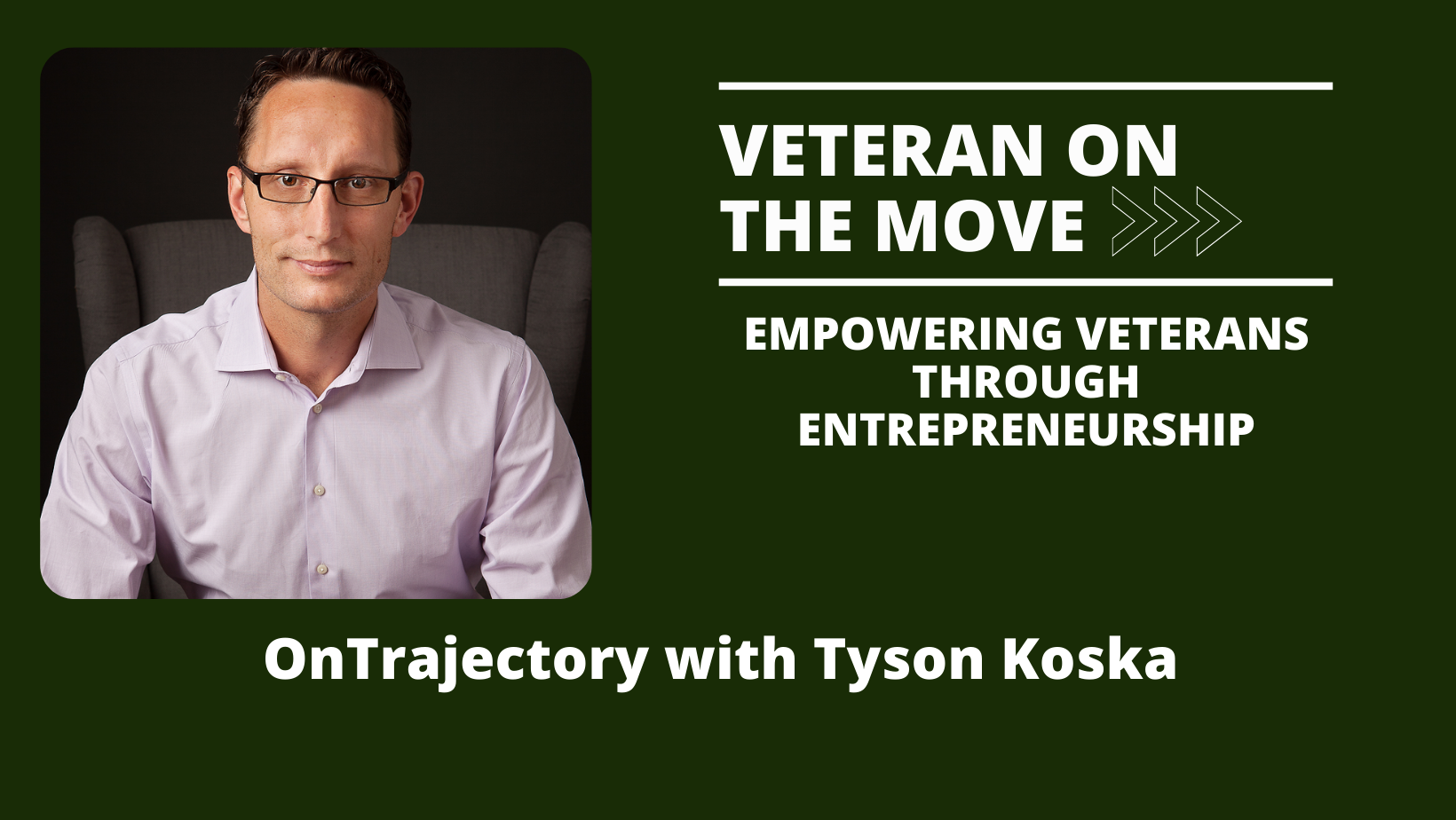 Podcast: Play in new window | Download
This week Joe is joined by Army Veteran and entrepreneur Tyson Koska. Tyson served as a helicopter pilot; going from high school to flight school and attending college after four years of service. Following graduation, Tyson entered the IT world and started a 25 year career. He shares with Joe how he created OnTrajectory, a personal finance software that helps users with long term planning. OnTrajectory is unique from other available financial planning tools because it is highly customizable and user's information is kept private. Tyson shares the lessons he has learned and advice for other entrepreneurs. Check out OnTrajectory here. 
About Our Guest 
Tyson is a former Oh-58 pilot and Army veteran. After leaving the military, he used his GI Bill to earn degrees in English and Philosophy. Faced with few job prospects, however, Tyson turned to IT where he spent 25 years in software development. Tyson founded OnTrajectory.com in 2014 because he was tired of waiting for someone else to create meaningful personal finance software for regular individuals. His new life mission is to bring easy and accurate financial modeling to everyone.
Join the conversation on Facebook!
Check out Veteran on the Move on Facebook to connect with our guests and other listeners. A place where you can network with other like-minded veterans who are transitioning to entrepreneurship and get updates on people, programs and resources to help you in YOUR transition to entrepreneurship.
About Our Sponsors

Navy Federal Credit Union 
When you hear the name Navy Federal Credit Union, you probably think that it's just for members of the U.S. Navy. In fact, Navy Federal Credit Union serves all branches of the armed forces, Veterans, and the families of service members. When it comes to buying a car, Navy Federal knows it's a big investment. That's why they offer rates as low as 1.79% APR on new vehicles, along with flexibility with monthly payments and terms. And now, when you refinance your auto loans from another lender, members could save and get $200! Get decisions in seconds and start saving with Navy Federal Credit Union.
To earn and save more as a member, learn more at navyfederal.org.
At Navy Federal, our members are the mission.  
Want to be our next guest? Send us an email at interview@veteranonthemove.com. 
Did you love this episode? Leave us a 5-star rating and review! 
Download Joe Crane's Top 7 Paths to Freedom or get it on your mobile device. Text VETERAN to 38470.
Veteran On the Move podcast has published over 425 episodes. Our listeners have the opportunity to hear in-depth interviews conducted by host Joe Crane. The podcast features people, programs, and resources to assist veterans in their transition to entrepreneurship.  As a result, Veteran On the Move has over 7,000,000 verified downloads through Stitcher Radio, SoundCloud, iTunes and RSS Feed Syndication making it one of the most popular Military Entrepreneur Shows on the Internet Today.
Lorem ipsum dolor sit amet, consectetur adipiscing elit, sed do