Retirement Can be Dangerous to Your Health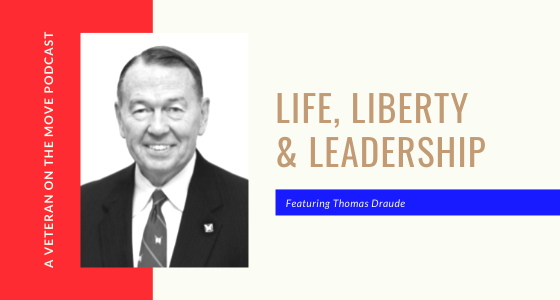 Podcast: Play in new window | Download
Life, Liberty and Leadership Series
In this special series released on Wednesdays, we are honored to have Brigadier General Tom Draude. Callsign Sage, Tom commissioned in June 1962 after graduation from the Naval Academy and served in the Marine Corps for 30 1/2 years. He served three combat tours in Vietnam as an infantry officer and was the Assistant Division Commander of the 1st Marine Division during operation Desert Shield and Desert Storm.  Sage is the recipient of two Silver Stars, the Purple Heart Medal, the Combat Action Ribbon, and the Vietnamese Cross of Gallantry Medal with Palm.
In this series, Sage discusses life, liberty and leadership, and shares his life lessons from 30 plus years in the military, over 20 years in the civilian sector and now as an educator.
Key Points of Discussion
   

Tom's introduction

   

Teaching career of Tom

   

Opinion about youth of today

   

Tom's teaching methodology

   

Tom's opinion about higher suicide rate
Key Milestones of this Episode
[02:36] Getting to know about Tom
[05:49] Teaching at different colleges
[07:38] Funny moments
[09:15] Tom's opinion about the Youth of today
[11:41] Teaching life lessons to students
[14:54] Opportunities for college students
[18:34] Tom's opinion on high veteran suicide rate
[20:48] Wrapping up
 Key Quotes by Tom Draude
" Society is in trouble when its elders cross the street to avoid talking to its youth."

"The kids are great. I've had Muslim students teaching courses on the Middle East and the gulf Wars and they add so much by providing a perspective to our class that we would not have as Americans."

"I see that our youngsters are historically illiterate, but that's not their fault. That's our fault."

 "Somebody once said, they're 20% of our population but 100% of our future and I'm a firm believer in the quality of our youth today. I've never been disappointed."
About Our Sponsor:  American Forces Travel
AmericanForcesTravel.com is a new website for your toolkit that can save you money on travel plus support your military community at the same time.
AmericanForcesTravel.com is a DOD partnership with Priceline. Active-Duty, Reserve, Veterans and more can use this restricted website. You'll save money on flights, cars and hotels.  Additionally, travel company commissions go to your service branch to be reinvested into your military community. Check out AmericanForcesTravel.com and see for yourself. 
About Our Guest Tom Draude
Brigadier General Thomas V. Draude is a retired Marine Corps officer. Since retirement, Draude served with USAA and the Marine Corps University Foundation. He is currently an adjunct faculty member of St. Leo University in Florida, teaching on The Vietnam War, The Middle East and Modern Wars, and The Gulf Wars. He is also an adjunct faculty member at University of South Florida, teaching Why We Fight and How We Fight U.S. Wars.
To hear more about Tom's journey, download this episode now.
Don't forget to leave us a 5-star rating and review if you enjoyed the show. We would love to hear from you!
Download Joe Crane's Top 7 Paths to Freedom or get it on your mobile device. Text VETERAN to 38470. 
Join the Veteran on the Move on Facebook!
Check out Veteran on the Move on Facebook to connect with our guests! It's a great place where you can stay in touch with other veterans who are transitioning to entrepreneurship.  Get updates and free gouge on the people, programs and resources to help you in your transition to entrepreneurship.
Veteran On the Move podcast has published over 250 episodes. Our listeners have the opportunity to hear in-depth interviews conducted by host Joe Crane . The podcast features people, programs and resources to assist veterans in their transition to entrepreneurship.  As a result, Veteran On the Move has over 1,000,000 verified downloads through Stitcher Radio, SoundCloud, iTunes and RSS Feed Syndication making it one of the most popular Military Entrepreneur Shows on the Internet Today.
Lorem ipsum dolor sit amet, consectetur adipiscing elit, sed do