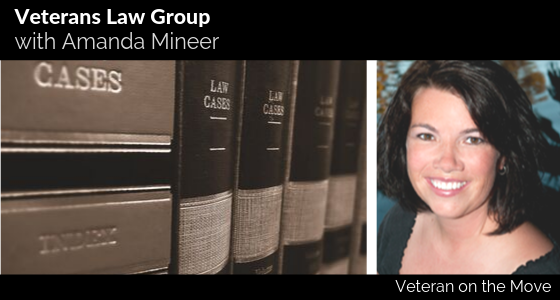 Podcast: Play in new window | Download
About this Episode
Amanda Mineer is an attorney who helps her clients through the VA Claim process.  Amanda is with the Veteran's Law Group in the San Diego area. She started with business law work and helping people start businesses.  In the process of helping a friend who had came back from IRAQ through how to file the paperwork for VA claims, Amanda found her new career.  Found out how VLG can help you appeal decisions and increase your percentages if you have been denied.
Key Points of Discussion
Amanda's background 

Amanda's entrepreneurship journey as an attorney

How to make it easy for the VA to find items in your paperwork

Denied or underrated for appeals

PTSD rating

Why claims take so long
Key Milestones of this Episode
 [00:58]  Amanda's introduction
 [02:07]  Amanda's journey as an attorney
 [05:07]  Issues with claims
 [08:01]  Getting percentage increased
 [10:10]  PTSD appeals
 [17:20]  VA under rates   
 [23:49]  How do veterans know if their ratings are correct
Key Quotes by Amanda Mineer
"If you spent 20 years in the military your STRs are probably pretty lengthy."

"One of the biggest struggles they face is if they wait too long to file their claim."

"The service connection is the hardest thing to get if you wait too long."

"All of the percentages are determined by statute."

"I don't see it when the VA gets it right, I see the worst of the worst."

"I always encourage veterans to read through the decisions of their ratings."
About Our Guest Amanda Mineer
Amanda Mineer is an expert on giving Veterans support they need through difficult claims processes. She has been with Veterans Law Group since 2013 and has helped Veterans get back pay of 40 million dollars in benefits.
Connect with Amanda
Ph. 888-811-0523
About Our Sponsor
Bench Bookkeeping is this episodes sponsor.  Being an entrepreneur, bookkeeping is a necessary evil.  To put your bookkeeping needs on autopilot check out Bench Bookkeeping and get one month free at veteranonthemove.com/bench.
To hear more about Amandas's success, download this episode now.
Don't forget to leave us a 5-star rating and review if you enjoyed the show. We would love to hear from you!
Download Joe Crane's Top 7 Paths to Freedom or get it on your mobile device. Text VETERAN to 38470.  
Join the Veteran on the Move on Facebook!
Check out Veteran on the Move on Facebook to connect with our guests! It's a great place where you can stay in touch with other veterans who are transitioning to entrepreneurship.  Get updates and free gouge on the people, programs and resources to help you in your transition to entrepreneurship.
Veteran On the Move podcast has published over 250 episodes. Our listeners have the opportunity to hear in-depth interviews conducted by host Joe Crane . The podcast features people, programs and resources to assist veterans in their transition to entrepreneurship.  As a result, Veteran On the Move has over 1,000,000 verified downloads through Stitcher Radio, SoundCloud, iTunes and RSS Feed Syndication making it one of the most popular Military Entrepreneur Shows on the Internet Today.
Lorem ipsum dolor sit amet, consectetur adipiscing elit, sed do