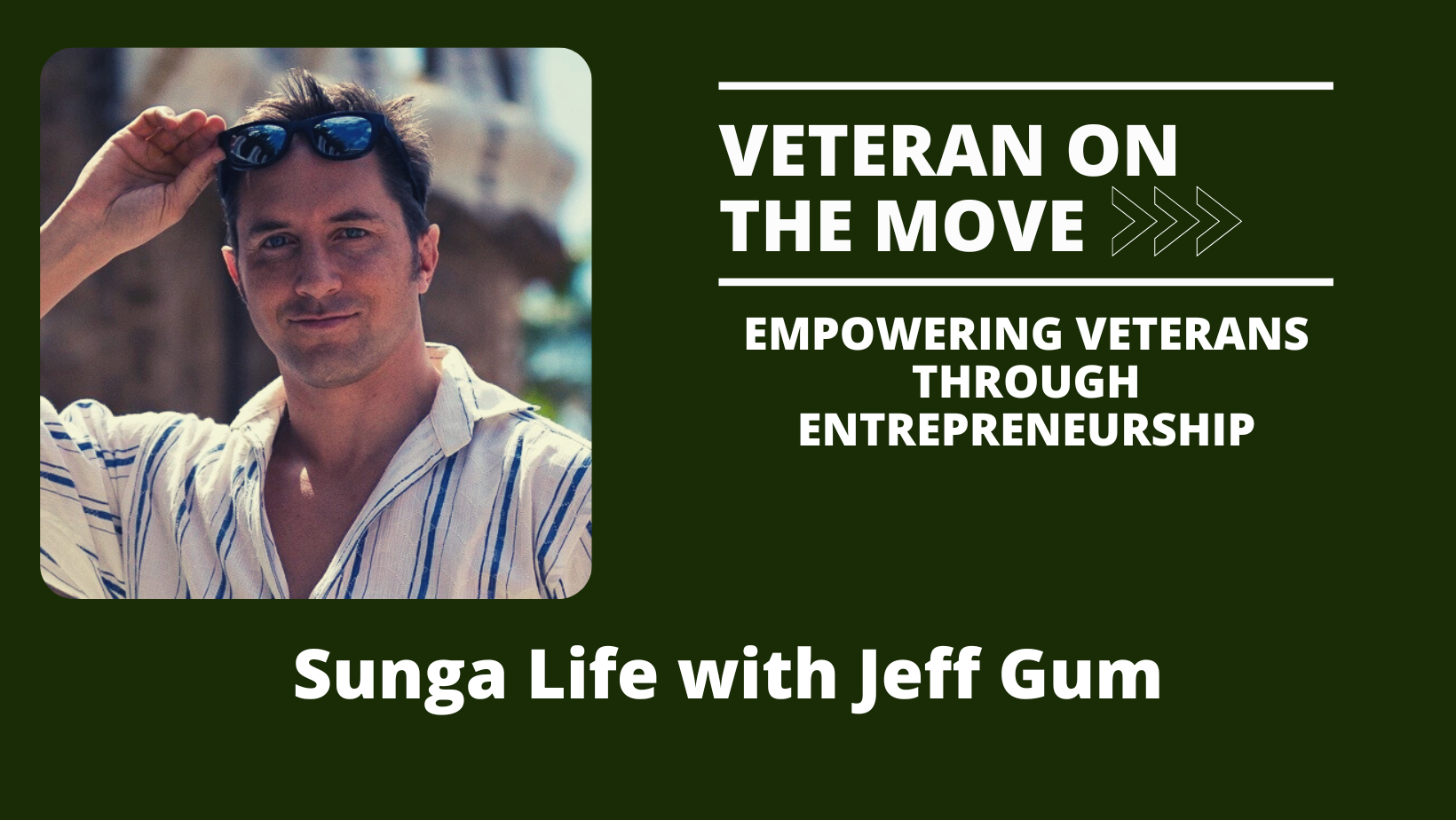 In this episode, Joe is joined by Navy Veteran and entrepreneur Jeff Gum. Jeff served as a Navy SEAL for 10 years before transitioning off Active Duty. Jeff is the founder of Sunga Life, an athleisure clothing brand inspired by time he spent in Brazil. He founded Sunga Life prior to leaving Active Duty and continued his business education by earning his MBA. Jeff shares with Joe how the lessons and skills he learned as a SEAL have influenced his business and leadership style. They also discuss the value of mentorship, both in and outside the military. Check out Sunga Life here. 
About Our Guest  
Jeff Gum served for ten years as a US Navy SEAL at SEAL Team 5 with two deployments to the Middle East and as Lead Petty Officer of the SEAL Combatives Program. He earned his B.S. in Business Management at the University of Central Florida and his MBA at UCLA Anderson where he founded Sunga Life, an athleisure brand all about freedom. He is a Scientific Master Diver with the Force Blue Team saving the Coral Reef in Florida and on the board of the Adaptive Training Foundation. 
Join the conversation on Facebook!
Check out Veteran on the Move on Facebook to connect with our guests and other listeners. A place where you can network with other like-minded veterans who are transitioning to entrepreneurship and get updates on people, programs and resources to help you in YOUR transition to entrepreneurship.
About Our Sponsors
Veterans Day comes every year, but companies rarely thank veterans in a way that's meaningful and Veterans definitely deserve to be thanked in a meaningful way. At Navy Federal Credit Union, every day is Veterans Day. As a Navy Federal member for over 32 years I can tell you that they get the military. They offer resources like the VA Loans Hub" and "Best Cities After Service." They offer veteran employment assistance partnerships with nonprofits like The Mission Continues. They're a top VA Home Loan lender, offer personal finance counseling, and  offer 24/7 member service. They have a growing community of over 1.8 million veterans like you.  Learn more at navyfederal.org/veterans.
At Navy Federal, our members are the mission.  
Want to be our next guest? Send us an email at interview@veteranonthemove.com. 
Did you love this episode? Leave us a 5-star rating and review! 
Download Joe Crane's Top 7 Paths to Freedom or get it on your mobile device. Text VETERAN to 38470.
Veteran On the Move podcast has published over 455 episodes. Our listeners have the opportunity to hear in-depth interviews conducted by host Joe Crane. The podcast features people, programs, and resources to assist veterans in their transition to entrepreneurship.  As a result, Veteran On the Move has over 7,000,000 verified downloads through Stitcher Radio, SoundCloud, iTunes and RSS Feed Syndication making it one of the most popular Military Entrepreneur Shows on the Internet Today.
Lorem ipsum dolor sit amet, consectetur adipiscing elit, sed do