Taking Care of Your Own Part 2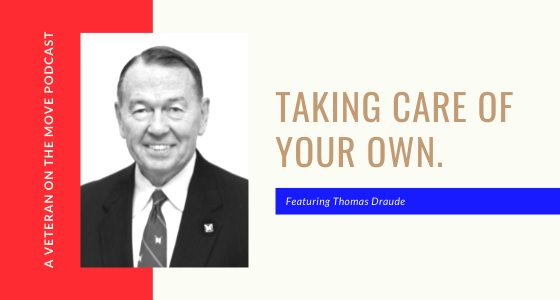 Podcast: Play in new window | Download
About this Episode
In this special series released on Wednesdays, we are honored to have Brigadier General Tom Draude. Callsign Sage, Tom commissioned in June 1962 after graduation from the Naval Academy and served in the Marine Corps for 30 1/2 years. He served three combat tours in Vietnam as an infantry officer and was the Assistant Division Commander of the 1st Marine Division during operation Desert Shield and Desert Storm.  Sage is the recipient of two Silver Stars, the Purple Heart Medal, the Combat Action Ribbon, and the Vietnamese Cross of Gallantry Medal with Palm.
Key Points of Discussion
Sage's concept of taking care of own in civilian life

Available and accessible to others

How to be a great boss

Learn from JERK
Key Milestones of this Episode
[01:10] Concept of taking care of your own in civilian life
[04:05] Making yourself accessible and available
[08:20] Characters of Leader
[12:08] Trick for being great boss
[15:46] Giving confidence to students
[17:46] Guest speakers in Class
Key Quotes by Tom Draude
"

If I'm demonstrating I care about you because you're one of mine and I care about the things that are most important to you or ought to be most important to you that is your wife and your children.

"

"You can pretend to care but you can't pretend to be there."

"

If you care about your people, then you're going to go where they are and give them a chance to share with you the things that they think I want to be sure in a confidential environment

."

"

A leader has a solemn obligation to be a person of integrity and character, all the things to the people that have privilege to lead, but also demonstrate that he genuinely cares about them."

"Absorb all of the things that allow your leadership to pour examples."

"You have a jerk learn from that jerk and then make the choice you can become bitter or better."
About Our Sponsor:  American Forces Travel
AmericanForcesTravel.com is a new website for your toolkit that can save you money on travel plus support your military community at the same time.
AmericanForcesTravel.com is a DOD partnership with Priceline powered by Priceline and built for veterans and active-duty,  American Forces Travel can save you money on flights, cars and hotels and support your branch of the military at the same time.  
Active-Duty, Reserve, Veterans and more can use this restricted website. You'll save money on flights, cars and hotels.  Additionally, travel company commissions go to your service branch to be reinvested into your military community. Check out AmericanForcesTravel.com and see for yourself.
About Our Guest Tom Draude
Brigadier General Thomas V. Draude is a retired Marine Corps officer. Since retirement, Draude served with USAA and the Marine Corps University Foundation. He is currently an adjunct faculty member of St. Leo University in Florida, teaching on The Vietnam War, The Middle East and Modern Wars, and The Gulf Wars. He is also an adjunct faculty member at University of South Florida, teaching Why We Fight and How We Fight U.S. Wars.
To hear more about Tom's journey, download this episode now.
Don't forget to leave us a 5-star rating and review if you enjoyed the show. We would love to hear from you!
Download Joe Crane's Top 7 Paths to Freedom or get it on your mobile device. Text VETERAN to 38470. 
Join the Veteran on the Move on Facebook!
Check out Veteran on the Move on Facebook to connect with our guests! It's a great place where you can stay in touch with other veterans who are transitioning to entrepreneurship.  Get updates and free gouge on the people, programs and resources to help you in your transition to entrepreneurship.
Veteran On the Move podcast has published over 250 episodes. Our listeners have the opportunity to hear in-depth interviews conducted by host Joe Crane . The podcast features people, programs and resources to assist veterans in their transition to entrepreneurship.  As a result, Veteran On the Move has over 1,000,000 verified downloads through Stitcher Radio, SoundCloud, iTunes and RSS Feed Syndication making it one of the most popular Military Entrepreneur Shows on the Internet Today.
Lorem ipsum dolor sit amet, consectetur adipiscing elit, sed do