The Dropout Multi-Millionaire with Brian Will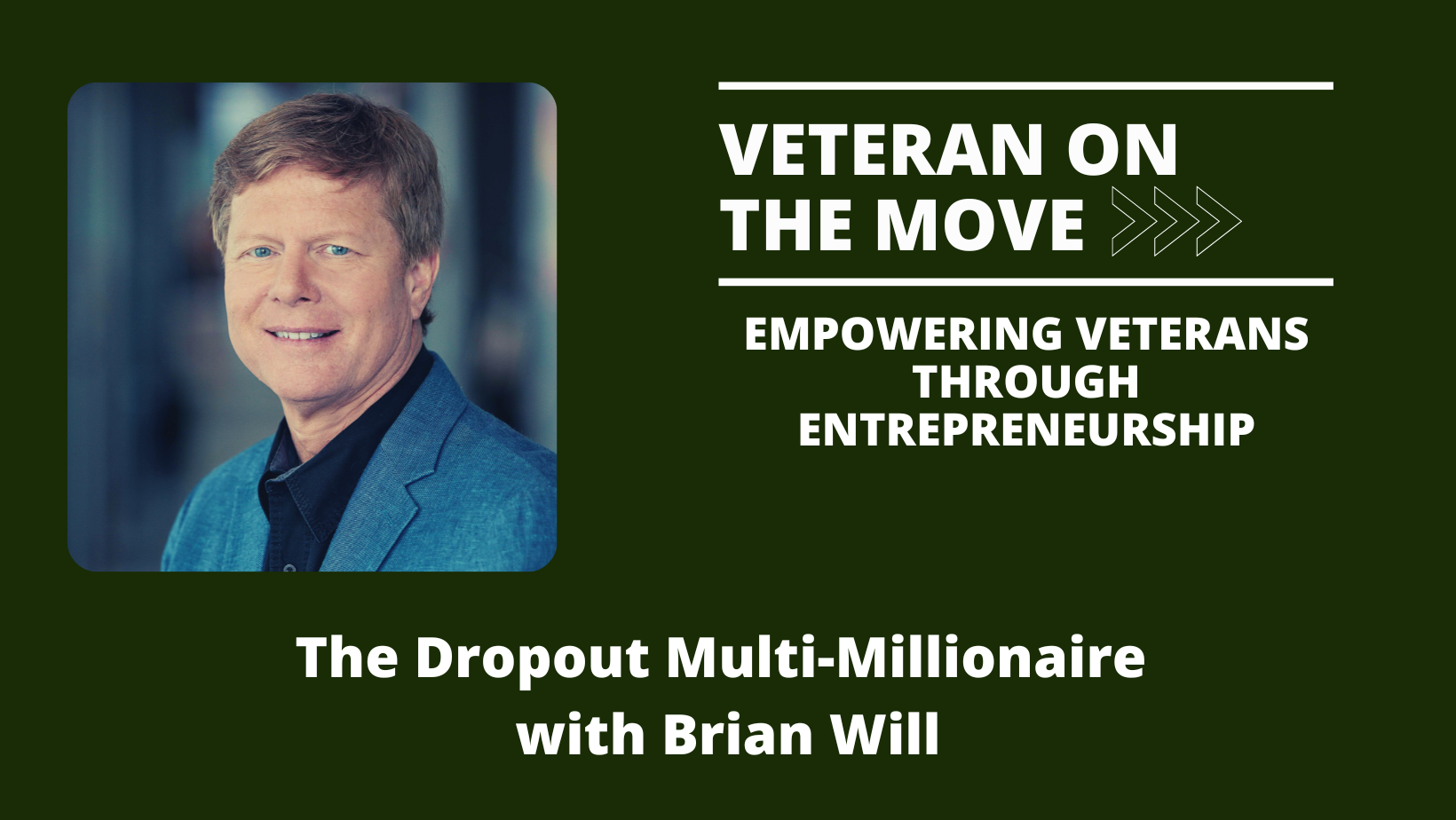 Podcast: Play in new window | Download
In this episode, Joe is joined by Airforce and Army Veteran Brian Will. Brian is the best selling author of The Dropout Multi-Millionaire and a successful, serial entrepreneur. He shares how he started his first business and the valuable lessons he learned after things didn't go to plan. Brian now helps other entrepreneurs get started on their path to success and profits as a coach and mentor. Check out Brian here. 
About Our Guest  
Brian Will served in both the Air Force and Army. He is the author of the Wall Street Journal and USA Today bestselling book "The Dropout Multi-Millionaire". He is a serial entrepreneur and an industry expert in sales and management consulting. Starting his entrepreneurial journey in his early 20's, Brian has created or co-created seven highly successful companies across four different industries in the last thirty-five years, with a peak combined value of over a half a billion dollars. Throughout his career, Brian has been instrumental in turning around multiple projects and has aided various organizations in driving billions of dollars in sales.
Join the conversation on Facebook!
Check out Veteran on the Move on Facebook to connect with our guests and other listeners. A place where you can network with other like-minded veterans who are transitioning to entrepreneurship and get updates on people, programs and resources to help you in YOUR transition to entrepreneurship.
About Our Sponsors

Navy Federal Credit Union 
Managing your money can be hard because of competing goals like growing savings versus Paying down debt or managing everyday expenses versus having fun.  Or what about those unexpected expenses that always come along. Navy Federal Credit Union takes the legwork out of savings and investing with a variety of choices. Want to supersize your savings earnings? They're offering some of their highest rates in 10 years. And, whether you choose savings or investments, you can make it easier by automating. Plus, their website has articles, tips and tools that make complicated subjects easier to understand. Check out Navy Federal's supercharged rates at navyfederal.org/saveandinvest.
At Navy Federal, our members are the mission.  
MDHearing
MDHearing was founded by an ENT Surgeon who saw how many of his patients needed hearing aids but couldn't afford them. He made it his mission to develop a quality hearing aid that anyone could afford. So if you want MDHearing's smallest hearing aid ever, go to MDHearing.com and use promo code VETERAN to get their new Buy 1/Get 1 $149.99 each offer when you buy a pair. Plus, they are adding a free Extra Charging Case, a $100 value, just for listeners of Veteran on the Move Podcast. So head to MDHearing.com and use our promo code VETERAN and get their NEW Buy 1/Get 1 $149.99 each offer when you buy a pair.
Want to be our next guest? Send us an email at interview@veteranonthemove.com. 
Did you love this episode? Leave us a 5-star rating and review! 
Download Joe Crane's Top 7 Paths to Freedom or get it on your mobile device. Text VETERAN to 38470.
Veteran On the Move podcast has published over 460 episodes. Our listeners have the opportunity to hear in-depth interviews conducted by host Joe Crane. The podcast features people, programs, and resources to assist veterans in their transition to entrepreneurship.  As a result, Veteran On the Move has over 7,000,000 verified downloads through Stitcher Radio, SoundCloud, iTunes and RSS Feed Syndication making it one of the most popular Military Entrepreneur Shows on the Internet Today.
Lorem ipsum dolor sit amet, consectetur adipiscing elit, sed do