Turn Your Passions into Profit with Matt McWilliams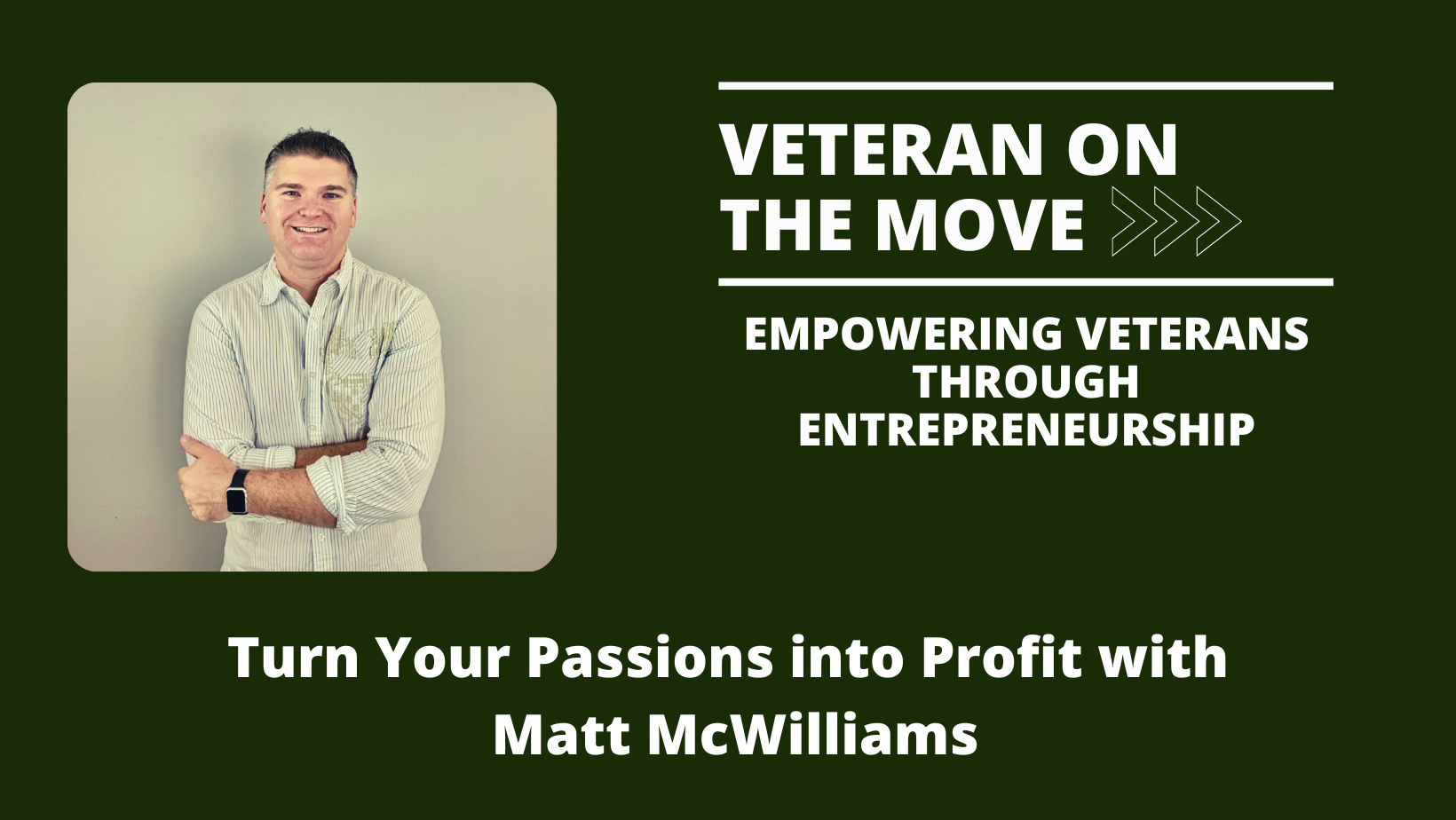 Podcast: Play in new window | Download
In this episode, Joe is joined by Author, Podcast Host,  and Entrepreneur Matt McWilliams. Matt is the author of Turn Your Passions into Profits and is on a mission to help Entrepreneurs find their passion and turn it into a successful business. He shares the importance of finding your niche and an audience that needs you and your product. If you are unsure of how to get started, Matt walks through the first steps and his tips for focusing on what you are passionate about while being a successful entrepreneur.  Learn more about Matt here. 
About Our Guest  
Matt McWilliams  is living proof that one can pursue one's passion in life, and do so while making a profit as well.
He's worked with some of the top companies and entrepreneurs on the planet such as Shark Tank's Kevin Harrington, Tony Robbins, Dean Graziosi, Kim Walsh Philips, Ryan Levesque, Michael Hyatt, Claire Diaz-Ortiz, Lewis Howes, Brian Tracy, Jeff Walker and more.
He's here to help you on your quest to turn your passion and message into a profitable and growing business. Matt has been through the startup phase multiple times in the past two decades and has built a following from scratch. Today, he lives out his passion for helping others find their purpose, passion, message, and path to profitability.
Matt is the host of The Affiliate Guy Podcast, your source for affiliate marketing news, tips, and strategies to take your online business to the next level
Join the conversation on Facebook!
Check out Veteran on the Move on Facebook to connect with our guests and other listeners. A place where you can network with other like-minded veterans who are transitioning to entrepreneurship and get updates on people, programs and resources to help you in YOUR transition to entrepreneurship.
About Our Sponsors

Navy Federal Credit Union 
Managing your money can be hard because of competing goals like growing savings versus Paying down debt or managing everyday expenses versus having fun.  Or what about those unexpected expenses that always come along. Navy Federal Credit Union takes the legwork out of savings and investing with a variety of choices. Want to supersize your savings earnings? They're offering some of their highest rates in 10 years. And, whether you choose savings or investments, you can make it easier by automating. Plus, their website has articles, tips and tools that make complicated subjects easier to understand. Check out Navy Federal's supercharged rates at navyfederal.org/saveandinvest.
At Navy Federal, our members are the mission.  
Want to be our next guest? Send us an email at interview@veteranonthemove.com. 
Did you love this episode? Leave us a 5-star rating and review! 
Download Joe Crane's Top 7 Paths to Freedom or get it on your mobile device. Text VETERAN to 38470.
Veteran On the Move podcast has published over 460 episodes. Our listeners have the opportunity to hear in-depth interviews conducted by host Joe Crane. The podcast features people, programs, and resources to assist veterans in their transition to entrepreneurship.  As a result, Veteran On the Move has over 7,000,000 verified downloads through Stitcher Radio, SoundCloud, iTunes and RSS Feed Syndication making it one of the most popular Military Entrepreneur Shows on the Internet Today.
Lorem ipsum dolor sit amet, consectetur adipiscing elit, sed do