Transitioning from Operator to Owner with Robert Poole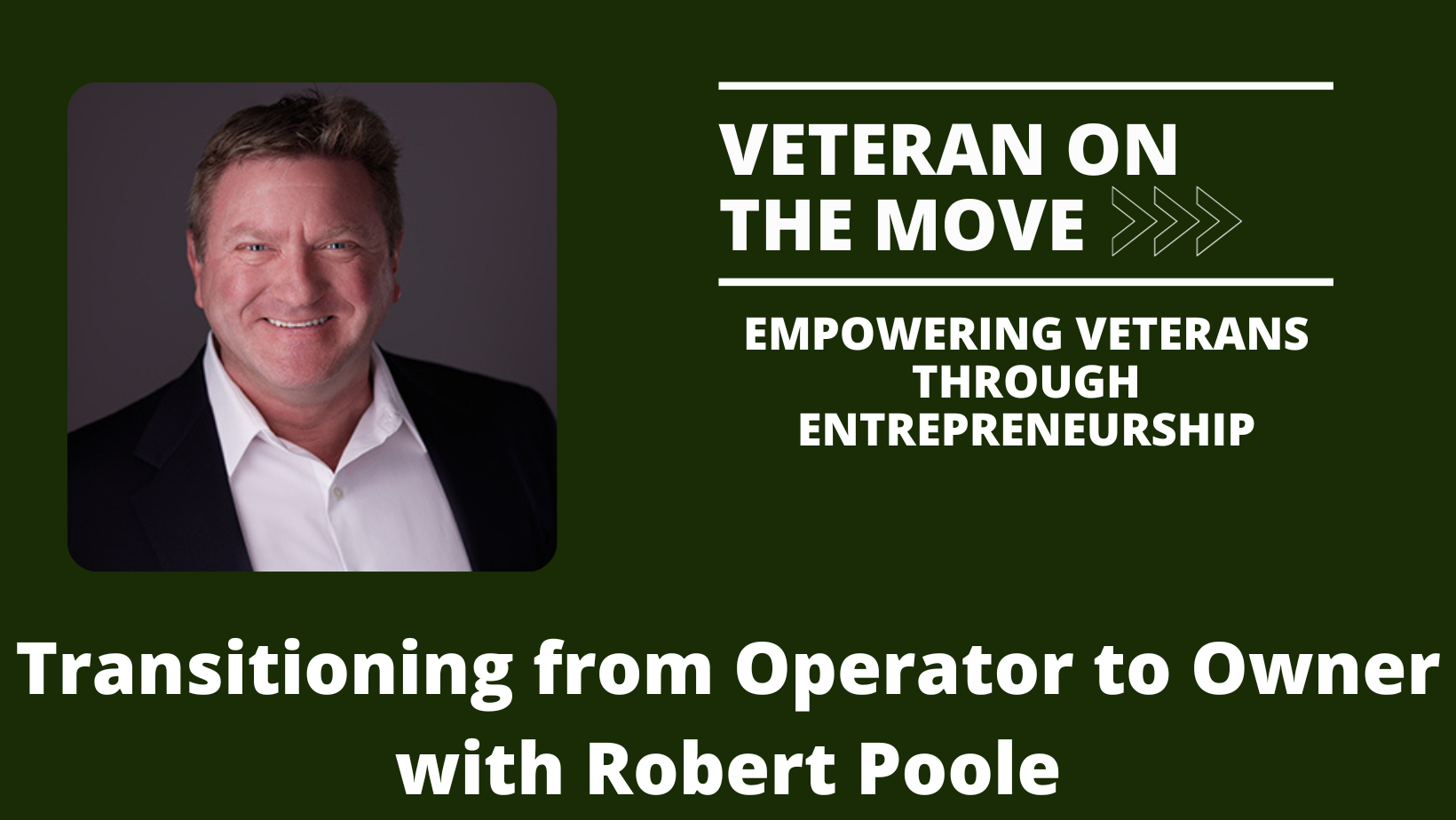 In this episode of Veteran On the Move, Joe is joined by Army Veteran and entrepreneur Robert Poole. After graduating from West Point, Robert served as an officer in the Quartermaster Branch before transitioning to the civilian sector. He is the co-founder of Total Business Results; a B2B marketing company specializing in cold calling. Robert shares his journey into entrepreneurship and how he shifted his business based on the demand and needs of customers. He now helps other entrepreneurs move away from day to day operations and make their business an asset and not a job. Robert is offering a free 30 minute strategy call for the first three listeners who email coaching@totalbusinessresults.com. 
About Our Guest   
Robert Poole is the co-founder of Total Business Results. He helps entrepreneurs who are tied to their businesses make the transition from operator to owner in their business so they can finally achieve the freedom they got into entrepreneurship in the first place.
He is a graduate of West Point, previously an Army officer, and has over 25 years of experience in helping entrepreneurs grow their companies and turn them into saleable assets that don't depend on them for the day to day operations.
Today he is going to share a little about how to get free from your business and get back the freedom and time that most of us got into this game for in the first place.
Join the conversation on Facebook!
Check out Veteran on the Move on Facebook to connect with our guests and other listeners. A place where you can network with other like-minded veterans who are transitioning to entrepreneurship and get updates on people, programs and resources to help you in YOUR transition to entrepreneurship.
About Our Sponsors

Navy Federal Credit Union  
As a member-owned not-for-profit, Navy Federal puts members at the heart of every single
thing that they do. With low fees and great rates, resources to help you crush your financial goals, and 24/7 access to stateside member service representatives with award-winning customer service
Members could enjoy:
-Earning and savings of $473 per year by banking with us 
-An average credit card APR that's 6% lower than the industry average 
-A market-leading regular savings rate nearly two times the industry average

Learn more: www.navyfederal.org/offers
At Navy Federal, our members are the mission.   
Want to be our next guest? Send us an email at interview@veteranonthemove.com. 
Did you love this episode? Leave us a 5-star rating and review! 
Download Joe Crane's Top 7 Paths to Freedom or get it on your mobile device. Text VETERAN to 38470.
Veteran On the Move podcast has published 500 episodes. Our listeners have the opportunity to hear in-depth interviews conducted by host Joe Crane. The podcast features people, programs, and resources to assist veterans in their transition to entrepreneurship.  As a result, Veteran On the Move has over 7,000,000 verified downloads through Stitcher Radio, SoundCloud, iTunes and RSS Feed Syndication making it one of the most popular Military Entrepreneur Shows on the Internet Today.
Lorem ipsum dolor sit amet, consectetur adipiscing elit, sed do