Delmarva Veteran Builders with Chris Eccleston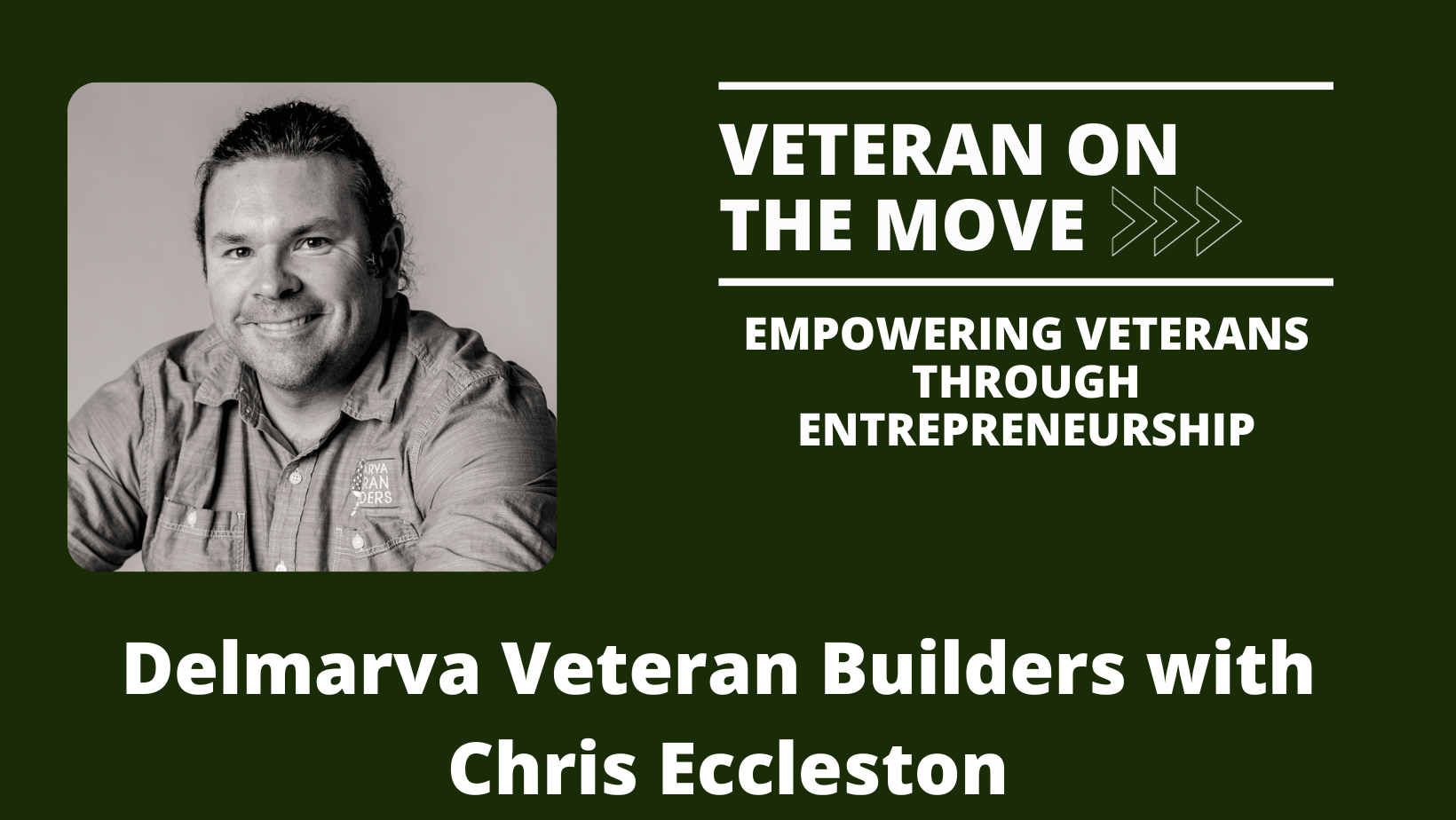 Podcast: Play in new window | Download
In this episode of Veteran On the Move, Joe is joined by President and founder of Delmarva Veteran Builders (DVB), Chris Eccleston. Chris served in the Navy for six years prior to attending college and later entering the construction industry. He worked in the industry for five years, starting as a laborer before starting his own business. DVB focuses on hiring Veterans and bringing military level professionalism and teamwork to every project. Chris shares his lessons learned from his leap into entrepreneurship and the importance of fostering a growth mindset in your business. Chris is also the co-author of Grit Over Greatness, a children's book teaching the importance of the construction trade and inspiring the next generation. 
Episode Resources: 
About Our Guest   
Chris Eccleston, a Salisbury, Maryland native, is the President and founder of Delmarva Veteran Builders (DVB) a fresh, gritty commercial construction firm igniting potential and doing epic things. DVB brings the veteran attitude to local construction projects which led the company to become one of the nations fastest-growing companies recognized by the Inc 5000 list for three consecutive years and the Vet 50 List for two years. Chriss dedication to veteran employment led to DVB receiving the Secretary of Defense Freedom Award at the Pentagon. DVB has completed over 200 different construction projects in the Mid-Atlantic area with a value over $167,000,000.00. A Navy veteran who served for six years as a nuclear machinist mate on the USS Theodore Roosevelt during Operation Enduring Freedom and Operation Iraqi Freedom, Chris takes great pride in his military service and supporting members of DVB who still serve today.
Join the conversation on Facebook!
Check out Veteran on the Move on Facebook to connect with our guests and other listeners. A place where you can network with other like-minded veterans who are transitioning to entrepreneurship and get updates on people, programs and resources to help you in YOUR transition to entrepreneurship.
About Our Sponsors

Navy Federal Credit Union  
As a member-owned not-for-profit, Navy Federal puts members at the heart of every single thing that they do. With low fees and great rates, resources to help you crush your financial goals, and 24/7 access to stateside member service representatives with award-winning customer service
Members could enjoy:
-Earning and savings of $473 per year by banking with us 
-An average credit card APR that's 6% lower than the industry average 
-A market-leading regular savings rate nearly two times the industry average

Learn more: www.navyfederal.org/offers
At Navy Federal, our members are the mission.   
Army Matters Podcast
AUSA's Army Matters podcast amplifies the voices of the Total Army – one story at a time. Join hosts LTG (Ret.) Les Smith and SMA (Ret.) Dan Dailey every other Wednesday as they interview the modern chroniclers of the Army experience to discuss inspiring leadership stories, current issues faced by Soldiers and our military families' journeys.
Start listening now wherever you listen to podcasts.
Want to be our next guest? Send us an email at interview@veteranonthemove.com. 
Did you love this episode? Leave us a 5-star rating and review! 
Download Joe Crane's Top 7 Paths to Freedom or get it on your mobile device. Text VETERAN to 38470.
Veteran On the Move podcast has published 500 episodes. Our listeners have the opportunity to hear in-depth interviews conducted by host Joe Crane. The podcast features people, programs, and resources to assist veterans in their transition to entrepreneurship.  As a result, Veteran On the Move has over 7,000,000 verified downloads through Stitcher Radio, SoundCloud, iTunes and RSS Feed Syndication making it one of the most popular Military Entrepreneur Shows on the Internet Today.
Disclosure: Some of the links above are affiliate links. This means that, at zero cost to you, I will earn an affiliate commission if you purchase via the link provided.
Lorem ipsum dolor sit amet, consectetur adipiscing elit, sed do