Veteran and military spouse employment, education, and entrepreneurship with Erika Heeren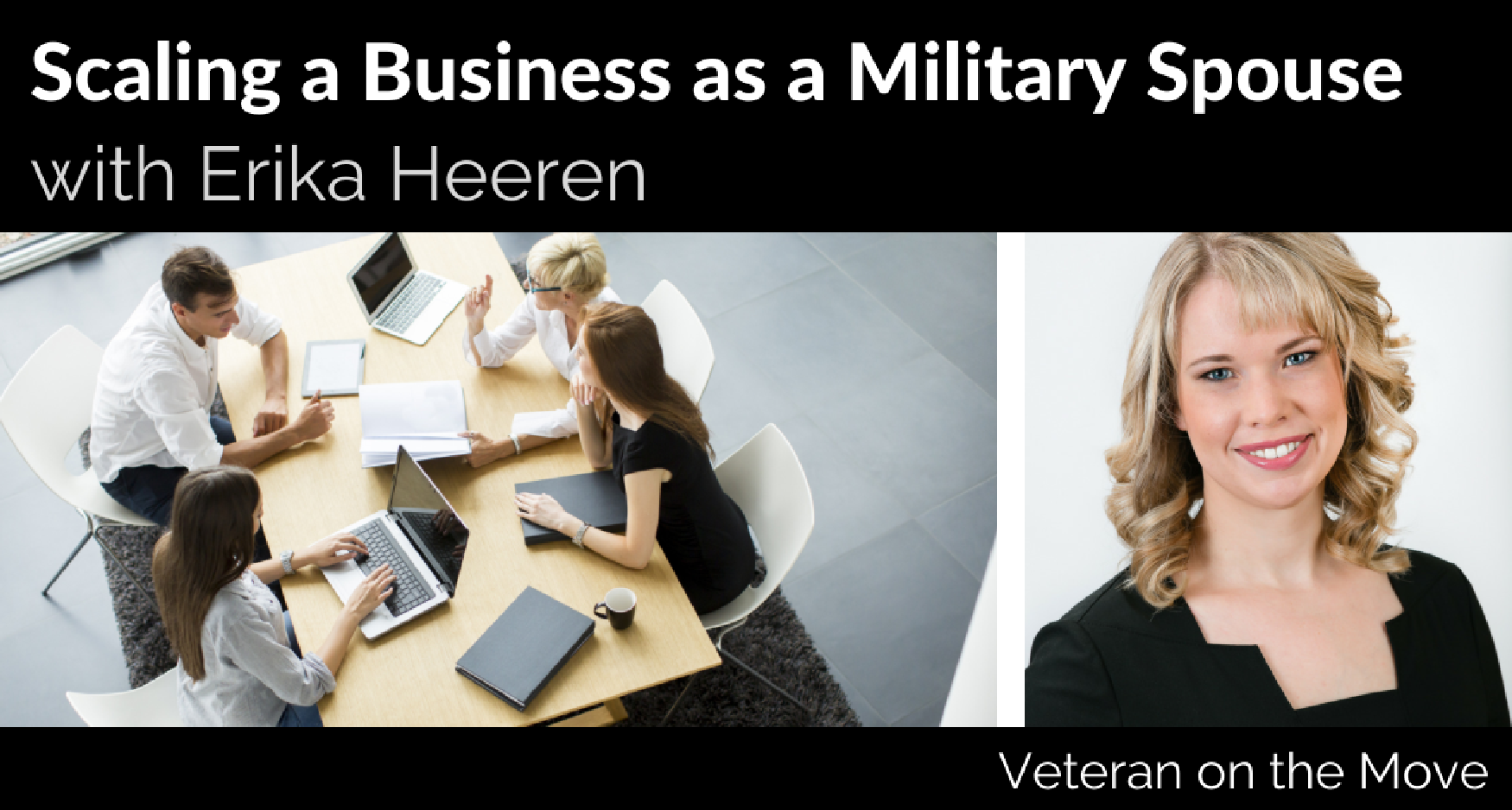 155: Military Spouse Employment Erika Heeren Heeren Content & Strategy
On today's episode, Joe Crane interviews Erika Heeren. Erika is the President and Creative Director at Heeren Content & Strategy, a local boutique public relations firm. She has been in the marketing and public relations industries for 14 years. Tune in and learn how about her outstanding services!
Marketing with Quality Content
Erika specializes on integrated media spanning 16 different industries. She works with small businesses and non-profit organizations to provide affordable, professional-quality content development and outreach services.
She also provides corporate training and consulting services for large businesses looking to improve upon their inbound marketing practice.
Her clients include local small business owners, marketing agencies, public universities, media outlets, Huffington Post-published authors, IT firms, and non-profit organizations.
Erika is also an outspoken advocate for veteran and military spouse employment, education, and entrepreneurship.
Not an Easy Transition
Erika has always been focused on her career and education. She had to take a step back from her goals when her husband got reassigned. They moved from Alaska to Idaho.
"All of a sudden you get orders to move, and it just throws everything for a loop." -Erika Heeren
She landed a job in an IT company. It was not easy having to move from a management position to an administrative role. Erika had to fill in the gaps for her own professional background.
Back On Track
Erika eventually had the opportunity to pursue her Bachelor's degree. She shares how lucky she was for finding a job that allowed her to continue with her goals.
"You have to be the one that's flexible. You have to be the one that's bendable and able to adapt your own career and your own lifestyle." -Erika Heeren
There were a lot of risks involved in the shift. She spent around 6 months arguing about it. She knew she had to do something about her passion, and needed flexibility to pursue it.
To hear the rest of Erika's story, download and listen to the entire episode Military Spouse Employment Erika Heeren Heeren Content & Strategy. Leave us a rating and review if you enjoyed the show. We love hearing from you!
If you are short on time, here are the highlights of Military Spouse Employment Erika Heeren Heeren Content & Strategy:
Erika's affiliation with the military? ([1:42])
How she started her business? ([5:49])
Job as a hindrance? ([9:30])
About Content & Strategy? ([11:12])
Knowing your ideal client? ([16:10])
A mobile business? ([19:25])
Continue learning after success? ([23:29])
Dealing with change? ([25:43])
Episode Links:
Heeren Content & Strategy website
Email Erika at erika@heerencontentstrategy.com
Download Joe Crane's Top 7 Paths to Freedom or get it on your mobile device. Text VETERAN to 38470.
Join the Veteran on the Move on Facebook!
Check out Veteran on the Move on Facebook to connect with our guests! It's also a great place where you can stay in touch with other veterans who are transitioning to entrepreneurship, and get updates and free gouge on the people programs and resources to help you in your transition to entrepreneurship.
The Veteran On the Move podcast has published over 150 episodes giving listeners the opportunity to hear in-depth interviews conducted by host Joe Crane featuring the people, programs and resources to assist veterans in their transition to entrepreneurship: Marine Corps, Army, Navy, Air Force and Coast Guard veterans, DOD, entrepreneurship, business, success, military spouse, transition, education, programs and resources. Veteran On the Move has garnered over 500,000 listens verified through Stitcher Radio, Sound Cloud, Itunes and RSS Feed Syndication making it one of the most popular Military Entrepreneur Shows on the Internet Today.
Lorem ipsum dolor sit amet, consectetur adipiscing elit, sed do