Famous People That You Didn't Know Served in the Military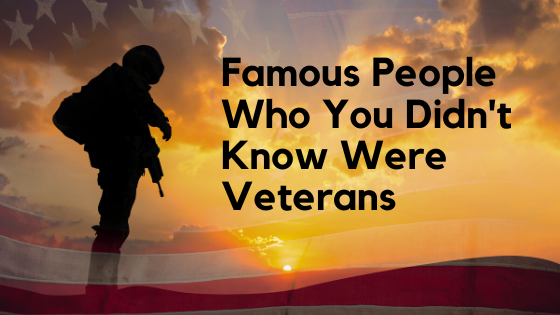 You might read the headline to this blog, "Famous People That You Didn't Know Served in the Military," and wonder what does that have anything to do with running small businesses.  The answer is a lot because being a business owner is challenging. It's not something everyone can do.
We've discussed why Veterans make good business owners and, most of that is because of what they have learned while serving our country. The things taught during basic training mold a person's life forever, and that continues to grow while serving. Then you get out and transition to civilian life and have to make something of yourself.
These people listed below you might not have even known served our country. Today, they are known not only as celebrities because of their acting, music, or businesses they built but as veterans that used what they learned and applied it to their measure of success. They made a living from the qualities they gained, and even the military education benefits to catapult themselves to where they are now.
Here are six famous veterans that you didn't know served in the Military:
Bea Arthur: was one of the first members of the Women's Reserve, registering under the name Bernice Frankel. She served from 1943-1945 and then catapulted as a broadway actress, earning a Tony Award and then spent seven years on our TV known as Dorothy on The Golden Girls.
Tammy Duckworth: After earning a Ph.D., Tammy joined the Air National Guard and became a Blackhawk pilot. In 2004 in Iraq, her helicopter was hit by a grenade, where she lost both of her legs.  After transitioning out, she was the first disabled female veteran elected to the House of Representatives and the Senate. She later became the assistant secretary of the Department of Veterans Affairs under President Obama.
Ice-T: Growing up on the tough streets in Los Angeles, Ice-T, whose real name is Tracey Marrow decided enlisting would be better than going to jail and joined the Army.  He used his skills he learned over those four years to not only become a Rapper as he's known so well as but a respected American musician, songwriter, actor, record producer, and author.
Sunny Anderson- Before she became a famous Food Network show host, she served in the Air Force. She was a radio broadcaster in South Korea and San Antonio, Texas.  She was the owner of Sunny's Delicious Dishes, a catering company based in New Jersey and a Food and Lifestyle Editor for a magazine.
Ed McMahon- Joined during World War II, before he was Johnny Carson's sidekick and famously became known as the Host of Star Search.  But before that, McMahon served in the Korean War with the Marines. He was an F-9 Panther pilot, flying 85 combat missions. He ended his military career as a colonel after 25 years.
Hugh Hefner:  Publishing was always in his blood. Hugh served as an infantry clerk and illustrated cartoons for Army newspapers. He was honorably discharged and made himself a billionaire entrepreneur as the founder of Playboy magazine.
This small list of people is proof that you can do anything you dream of. Transitioning from the Military can seem daunting, but there area opportunities behind every door. We aim to empower veterans and their families through entrepreneurship by connecting them to the people, programs, and resources that will facilitate their successful transition into entrepreneurship.  If you're a Veteran in transition and want more info, start here.
Lorem ipsum dolor sit amet, consectetur adipiscing elit, sed do