3 Business Ideas for Military Veterans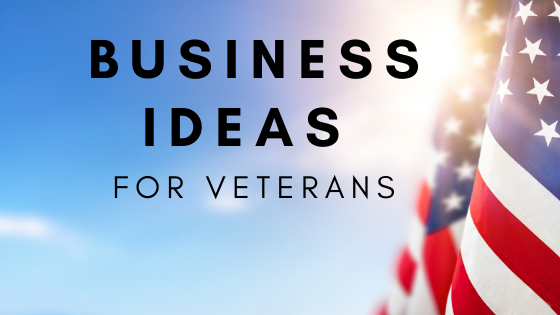 Are you thinking of starting your own business now that you've transitioned from Military life? You should know as a veteran, you possess a lot of skills that make you a fantastic candidate as a small business owner.
We've talked about why Veterans make excellent business owners before. Forbes magazine said in a 2014 article that veterans were natural-born entrepreneurs. But have you hit a roadblock possibly on what type of business you might want to start? It's ok if you have, there are so many options out there along with business loans and grants that can help you financially.  But we have put together a list of great opportunities with Veteran experience you can start thinking about.
Here are three business ideas for Miltary Veterans.
1. Private Security
As we mentioned in a previous blog on why Veterans make great business owners, one of those qualities is they are trained to work in a crisis. Their ability to calculate risk are characteristics that would be essential for private security. These skills that come along with that type of training isn't something everyone has. As Veterans, we are trained to fight and have the courage to step into potentially dangerous situations and even risk your lives. Private companies can offer protection for the wealthy, famous, and more. You also have opportunities as a contractor with the Government to protect political members and travel the world with any of those positions.
2. Become a franchise owner
Purchasing a franchise is another excellent business idea for military veterans as well. It allows you to become a business owner, yet not have to start from scratch with just an idea. You have a brand already to lead with, and we have seen the use of skills such as leadership that you gain from Military experience lead Veterans to success in this category.  Here are just a couple of fantastic businesses that have are known as top ranking franchises for veterans.  FastSigns has been franchising since 1986 and its stores make banners, architectural letters, vehicle graphics and signs for windows, yards, and buildings.  The UPS Store has been franchising since 1980.  The Store locations provide packaging, shipping, copy and print services, mailbox services, computer time rentals, and more for small businesses and individuals. Another great opportunity for Veterans is Anytime Fitness Gyms. This gym started franchising in 2002 and is known for its 24 hours, 365 days a year open status thanks to security systems that allow members to access the clubs during unstaffed hours.
3. Firearms Training
As a Veteran, you are trained in Firearm safety. Our last of many ideas for military veterans is teaching others how to use and store their firearms properly.  It's a perfect opportunity to use your skills to the best of their ability.  Make sure you check with your state and local governing cities on how to become a "teacher" and make sure you follow any protocols that are required.
Just remember whatever direction you decide to go when starting your Veteran-owned small business. Make sure you have things in place before starting. Here's a great source to read before starting your small business.
Lorem ipsum dolor sit amet, consectetur adipiscing elit, sed do