Social Media Content Ideas for Small Business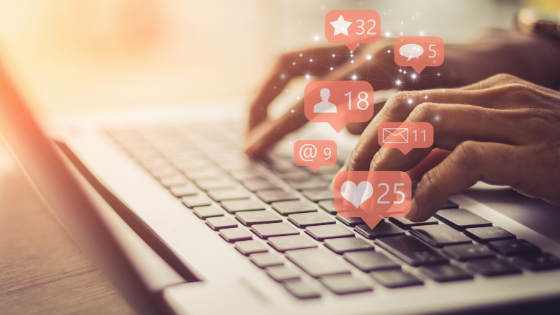 Social media content ideas sometimes can have you sitting scratching your head for hours. We've said it before, 3.48 billion people use social media. Advertising on social media is the fastest, inexpensive, and effective way to reach almost half the world's population. If you doubt if social media is THAT important, here are five reasons you should be using social media for your small business.
However, where a lot of people fail with advertising is building CONSISTENT and robust content for their social media. If you're struggling with creating and building a social media content calendar, below you will find some ideas we've put together that you can use for posts.  You can grab a calendar on your desk or planner and write these ideas down and create your content within these ideas and post with pictures you love, feel might connect with your audience, or directly connect with the content itself.
Also, building a social media content calendar or schedule is essential because it gives you the ability to SEE your posts over a while. You are making sure that you stay organized or don't repeat your posts too often.  It can allow you to connect and circle back to previous posts you've done or even send your audience to blog posts you might have talked about in the past to help with your SEO.
Here are 25 social media content examples you can use to build a content schedule.
#MotivationMondays posts
Share a quote and make a matching graphic or coordinating picture for that quote.
Share 5 things about your company people might not know
Share the mistakes you've made as a small business owner
Talk about your WHY
Do a Giveaway!
Ask a question and have your audience tag friends!
Talk about who you look up too. And TAG THEM! Encourage your audience to tag who they look up too!
Be the Expert- Talk about something you know exceptionally well in your business
Share a Fact or Fiction about your industry
#FridayIntroductions and post a picture of your staff to match.
Be Inspirational
Favorite Things
Promote your business
DO VIDEOS!
Company News
Employee's Birthdays, Anniversaries
Product Highlight days
SHARE DATA- audiences will TRUST you when you're giving them facts!
Behind the Scenes at your business
Talk TV shows/Movies! Connect with your audience with a NON-business post!
#wednesdaywisdom post
 #FriYay posts.. share what you are doing that weekend.
 Ask for customers to post what they love about your company/product
Ask for Customers to help come up with a business hashtag for you to use all time
Having a consistent posting schedule is essential. Your audience will start to expect to see you online and know what days you're doing things regularly.  What's most important, they will also notice when they don't see you anymore — breaking that consistent chain can also hurt your business if you are mainly advertising or hoping for word of mouth like advertising.  With today's Facebook and Instagram algorithm, likes and interaction with followers help keep your page in their newsfeeds.   If you're new to the social media world here are three things you need for more effective social media content.
Lorem ipsum dolor sit amet, consectetur adipiscing elit, sed do