Top 5 Reasons to use Social Media for your Small Business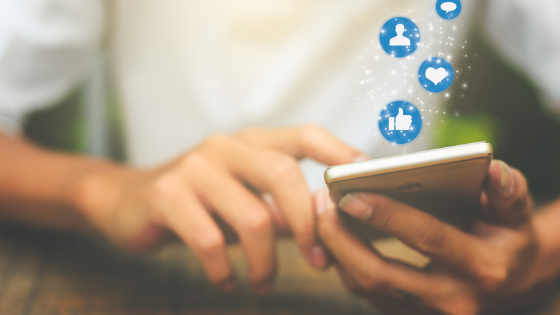 There's no hiding the fact that everyone is on social media now.  3.48 billion people use social media and if you're not taking advantage of social media platforms such as Facebook, Twitter, LinkedIn then you're missing out on a fast, inexpensive, and effective way to reach almost half the world's population.  We've put together the top 5 reasons why your small business should be using social media as part of your advertising. These reasons are in no specific order.
Brand Awareness
Don't worry about connecting with a lot of people — you just need to connect with the RIGHT people.  Also, we can't begin to say how important it is for people to TRUST a brand they are going to invest in.  People want to see that others are investing in your business as well.  They want to know what you do, how often you do it and that you deliver what you say you're going to.  We have also found depending on the type of business you have, that your clients and/or potential clients may also like to know about your personal life or interests too. What do you enjoy doing? How involved are you in your community?  Are you a family-owned and operated business? Are you a veteran-owned business? There's a large audience that would potentially choose YOU over a competitor based on your belief's, likes, and past Military service.  Do you have a team that makes your business run efficiently? Introduce them to your audience.  You can stay at the tops of their mind even when they might not need your service. They might refer you to a friend because they TRUST you.
Keeping in line with the competition.
Sorry to break the news, but social media is here to stay. 90% of marketers say social media marketing has increased their business exposure.  A lot of small businesses are scared of marketing on social media, therefore there's an area that's largely untapped for you to take advantage of. We know that social media can be intimidating. However, with the use of online research, you can find social media consultants you can outsource to.  Or, you can find a large number of online courses that are available to learn how to use and manage things like Facebook Ads Manager.  Either way, choosing a consistent path with your social media goals is important and can give you the leverage you need to gain an audience following.
Drive your social media content to your website.
Do you do most of your bookings through your website? That's ok if you do! You can pull evergreen content out of blog posts you do, attach them to graphics and repurpose those with links to your website.  You can also use facts related to your business like what sets you apart and link them to your site as a way to get your audience to book or buy your service. Your website is known as your storefront as a reason. You can also find things you will need to have an effective content strategy HERE.
It's cheaper than a magazine ad or television spot!
Believe it or not, Facebook and Twitter and all the networking sites are FREE advertising. If you're not running campaigns through those sites, every bit of your posting, your reach is FREE. Why not become well versed or hire someone who can do it for you to get that extra reach to people that might not even know of your company before your tweet or Facebook share!  We also highly recommend sharing MORE than just your business on your social media pages. Don't be shy to highlight other local businesses that you believe in!  Not only does it give your audience a reason to say "Hey there really IS a human on posting these things!" but those businesses could very well someday thank you, or give you a shout out on their pages, therefore, driving more FREE traffic your way.
Social media is FUN!
It doesn't have to be stressful and it's not hard to learn. After all, there's a reason BILLIONS of people are using social media. You will find that it's not only millennials using these formats. You will find middle age, and retiree's on social media "liking" their grandchildren's posts, looking for plumbers and seeing what the world is up to.  Don't allow your lack of knowledge or interest stop you from taking full advantage of these platforms. Soon you will see that using simple steps like some mentioned above can catapult your business! Also for a tip if you have a personal social media account,  HERE are some things to avoid doing so they don't ruin your business reputation.
Lorem ipsum dolor sit amet, consectetur adipiscing elit, sed do