The Importance of Business Networking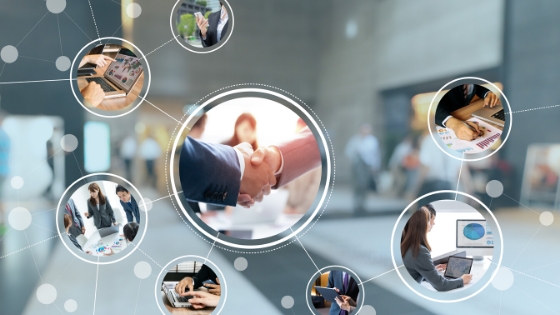 No matter what stage your business is in, networking has continued to show it's vital importance amongst small business owners veteran-owned or not. You must continue to move forward with your business, and one of the best ways to navigate that is networking.  Some of the best ways to do so are to get involved with Veteran-owned or small business networks.  But being a part of every networking group you can find is not the driving factor here. See, networking is about establishing connections with others that are like-minded.  It can be the easiest way to get a referral for your own business or to even send someone you know the reference and help them grown their company.
Networking is a great way to leverage your career success.
However, where a lot of new business owners go wrong is they believe that they need to have thousands of connections. Business owners spend countless hours meeting as many people as they can and "friending" as many of those on social media platforms. Then wonder why their business isn't growing. Studies and experts have shown that most successful business owners spend more time building a small number of high-quality connections. For that matter, some are entirely unrelated to their business. These business owners feel that having relationships in such a wide variety of genres can inspire new business ideas.
Another reason networking is so important is it allows you to invest in your relationships.
Cast a wide net when it comes to who's in your direct network. As humans, we tend to stay connected to those we have things in common with or people in the same industry or sector. However, it keeps our mindset limited.  We hear the same common issues, but never figure out exactly how to fix it.  Having a network that is broader than our area of expertise allows you to shine in your spotlight. Then you can focus on what has is known as "inbound marketing." The co-founders of Hubspot started pushing this marketing effort known as inbound marketing by encouraging business owners to attract others to you. In other words, it means to make yourself attractive, and Hubspot describes it as "allowing you to form connections with others and create content or draw their attention by solving issues they might already have." This then allows you to create a meaningful network. Keep your numbers healthy and small- but don't be a stranger to those in your industry.
You also want to focus on what you can do for your network, versus what they can do for you. Think quality over quantity.  Networking can help hone in on your skills, meet new mentors, coaches, and new clients. Thus, helping develop you in all ways of success.
Learn more from veteran Anthony Detoto on networking here. If you are interested in some small business owner networks and conferences, you can find a helpful list of our top ones of 2019 here.
Lorem ipsum dolor sit amet, consectetur adipiscing elit, sed do