The CoverBag with Murph McCarthy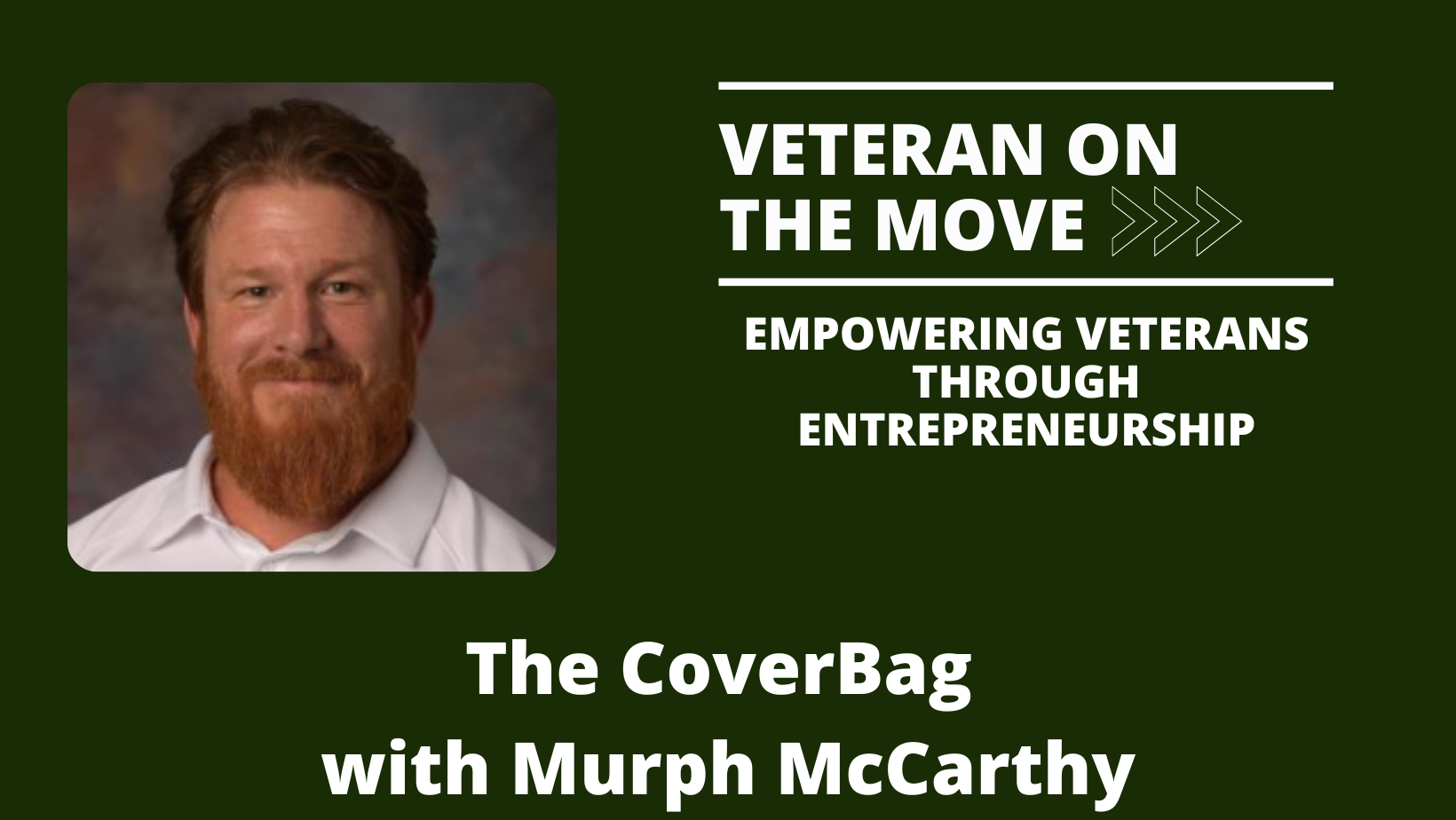 Podcast: Play in new window | Download
In this episode Joe is joined by retired Marine Officer and owner of TheCoverBag,com Murph McCarthy. Murph saw the need for a product to protect the pricey, fragile, and easily stained combination cover worn by members of the military and the CoverBag was born. Murph shares the challenges he faced with manufacturing his own product and advice for Entrepreneurs looking to do the same. 
Episode Resources: 
About Our Guest   
Murph McCarthy is a retired Marine Aviator who owns and operates TheCoverBag.com and is also the head women's rugby coach at the United States Naval Academy.
Join the conversation on Facebook!
Check out Veteran on the Move on Facebook to connect with our guests and other listeners. A place where you can network with other like-minded veterans who are transitioning to entrepreneurship and get updates on people, programs and resources to help you in YOUR transition to entrepreneurship.
About Our Sponsors

Navy Federal Credit Union  
Service isn't just what Navy Federal Credit Union does  – it's who they are. That's why Navy Federal created tools to help you earn and save more. Make your financial goals a reality with great rates and low fees. With their new No-Refi Rate Drop option, you could buy a home now, and if rates drop later, you could then lower your rate without refinancing. Plus, they also offer mortgage options with zero down payment, so you don't need to wait years to save!

Learn more: www.navyfederal.org/offers
At Navy Federal, our members are the mission.   
4Patriots Survival Food
In a startling description, the UN Food Chief warned the world with the words: "knocking on famine's door." He called what we're facing "a perfect storm of a perfect storm."
And he's not alone. Barron's published that "a Food Shortage Could Be Coming, Even in the U.S."
Farmers see it, too. John Boyd Jr, a 4th-generation farmer, told FOX News that "we're going to see empty food shelves in the coming months."
That's why getting survival food is more important than ever. Now. 
Create your own stockpile of the best-selling 4Patriots Survival Food Kits.
It's not ordinary food. We're talking good-for-25-years super survival food. 

Handpacked in a family-owned facility in the U.S.A. And giving jobs to over 200 Americans.

They have different delicious breakfasts, lunches, dinners… You can make these meals in less than 20 minutes. Just add boiling water, simmer, and serve.
Just go to 4Patriots.com and use code VETERAN to get 10% off your first purchase of 4Patriots Survival Food. Including our emergency food supply kits designed to last up to 25 years!
Hello Fresh 
 Ever wish you can spend less time planning, shopping, and cooking for the family and more time with them? From easy, time-saving breakfasts and family dinners to kid-approved lunches and snacks, HelloFresh has what it takes to keep everyone – including you – happy and satisfied.When you get HelloFresh, you know you're getting top-notch produce since it travels from the farm to your door in less than 7 days. 
Go to hellofresh.com/50veteran and use code 50veteran for 50% off plus 15% off the next 2 months!
Want to be our next guest? Send us an email at interview@veteranonthemove.com. 
Did you love this episode? Leave us a 5-star rating and review! 
Download Joe Crane's Top 7 Paths to Freedom or get it on your mobile device. Text VETERAN to 38470.
Veteran On the Move podcast has published 500 episodes. Our listeners have the opportunity to hear in-depth interviews conducted by host Joe Crane. The podcast features people, programs, and resources to assist veterans in their transition to entrepreneurship.  As a result, Veteran On the Move has over 7,000,000 verified downloads through Stitcher Radio, SoundCloud, iTunes and RSS Feed Syndication making it one of the most popular Military Entrepreneur Shows on the Internet Today.
Disclosure: Some of the links above are affiliate links. This means that, at zero cost to you, I will earn an affiliate commission if you purchase via the link provided.
Lorem ipsum dolor sit amet, consectetur adipiscing elit, sed do