Hiring Veterans with Matthew J. Louis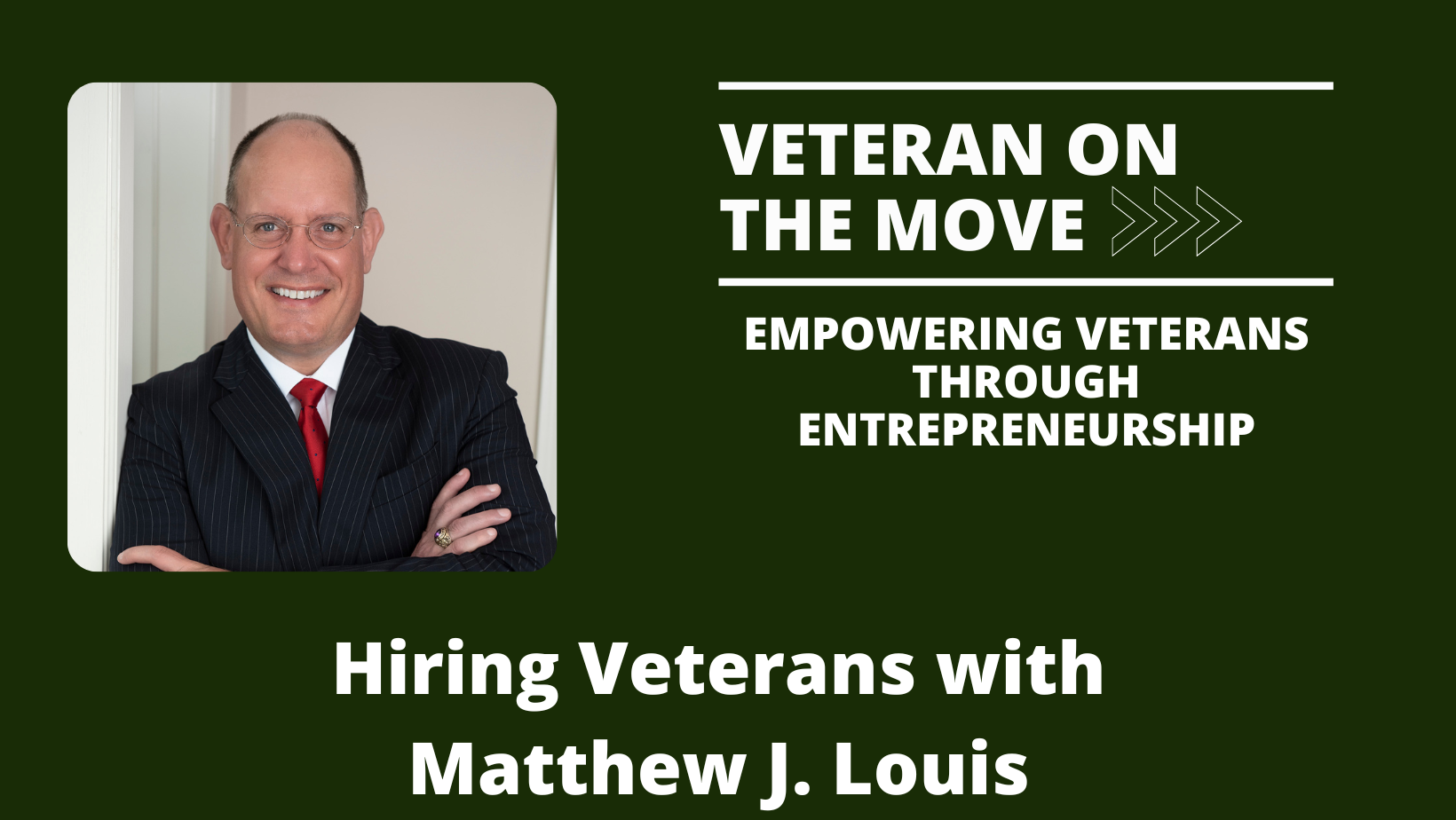 Podcast: Play in new window | Download
Returning to the show is Army Veteran, author, and career transition expert Matthew J. Louis. Matthew was previously on the show in 2019 to discuss his book Mission Transition and has just released his second book Hiring Veterans. He shares his own transition story and what drives his mission today of eliminating the ever widening civil-military divide. Hiring Veterans is a practical guide for organizational leaders to successfully include members of the military community and take advantage of the unique talent pool. 
Episode Resources: 
About Our Guest   
Matt Louis is one of the nation's leading experts in career transition for veterans and public service professionals. He coaches individuals on their transition efforts and advises employers on hiring programs designed to successfully assimilate these valuable talent pools. He is the author of the award-winning and best-selling HarperCollins book Mission Transition, a practical guide for veterans in career transition, their families, and their employers. His second book, Hiring Veterans, a practical guide for organizational leaders on how to build programs to successfully assimilate veteran and military spouse talent, will be published in September.
Join the conversation on Facebook!
Check out Veteran on the Move on Facebook to connect with our guests and other listeners. A place where you can network with other like-minded veterans who are transitioning to entrepreneurship and get updates on people, programs and resources to help you in YOUR transition to entrepreneurship.
About Our Sponsors

Navy Federal Credit Union 
Service isn't just what Navy Federal Credit Union does  – it's who they are. That's why Navy Federal created tools to help you earn and save more. Make your financial goals a reality with great rates and low fees. With their new No-Refi Rate Drop option, you could buy a home now, and if rates drop later, you could then lower your rate without refinancing. Plus, they also offer mortgage options with zero down payment, so you don't need to wait years to save!
Learn more: www.navyfederal.org/offers
At Navy Federal, our members are the mission.   
4Patriots Survival Food
Hurricane season is here. When Hurricane Ida hit the Gulf Coast, it destroyed countless homes and left many without access to food and clean water. Millions lost power, some for weeks. 
The floods that followed the hurricane washed out roads and made it impossible for grocery stores to restock their shelves. Families were left hungry and desperate, waiting for help that was slow to arrive. 
But what if you didn't have to rely on FEMA to provide for your family during a crisis?
The answer is simple – be prepared with emergency food kits from 4Patriots. Their long-lasting and delicious food options are specifically designed to provide you and your loved ones with the sustenance you need when you need it most.
4Patriots Survival Food kits are:
Handpacked in the U.S.A. 

Last for up to 25 years

Come packed inside covert storage totes 

Include a wide variety of delicious breakfasts, lunches, and dinners

Backed by 1000's of 5-star customer reviews 
4Patriots Survival Food is not just for natural disasters. Because in today's world of uncertain supply chains and unpredictable emergencies, it's more important than ever to have a backup plan. Whether it's a temporary power outage, a winter blizzard, or rising food costs, you can rest easy knowing that you have a reliable source of food to see you through.
And right now, you can go to 4Patriots.com and use code VETERAN to get 10% off your first purchase on anything in the store. Including our emergency food supply kits designed to last up to 25 years!
Just go to 4Patriots.com and use code VETERAN to get 10% off your first purchase of 4Patriots Survival Food. 
Want to be our next guest? Send us an email at interview@veteranonthemove.com. 
Did you love this episode? Leave us a 5-star rating and review! 
Download Joe Crane's Top 7 Paths to Freedom or get it on your mobile device. Text VETERAN to 38470.
Veteran On the Move podcast has published 500 episodes. Our listeners have the opportunity to hear in-depth interviews conducted by host Joe Crane. The podcast features people, programs, and resources to assist veterans in their transition to entrepreneurship.  As a result, Veteran On the Move has over 7,000,000 verified downloads through Stitcher Radio, SoundCloud, iTunes and RSS Feed Syndication making it one of the most popular Military Entrepreneur Shows on the Internet Today.
Disclosure: Some of the links above are affiliate links. This means that, at zero cost to you, I will earn an affiliate commission if you purchase via the link provided.
Lorem ipsum dolor sit amet, consectetur adipiscing elit, sed do