WIN Home Inspection with Jeff Starr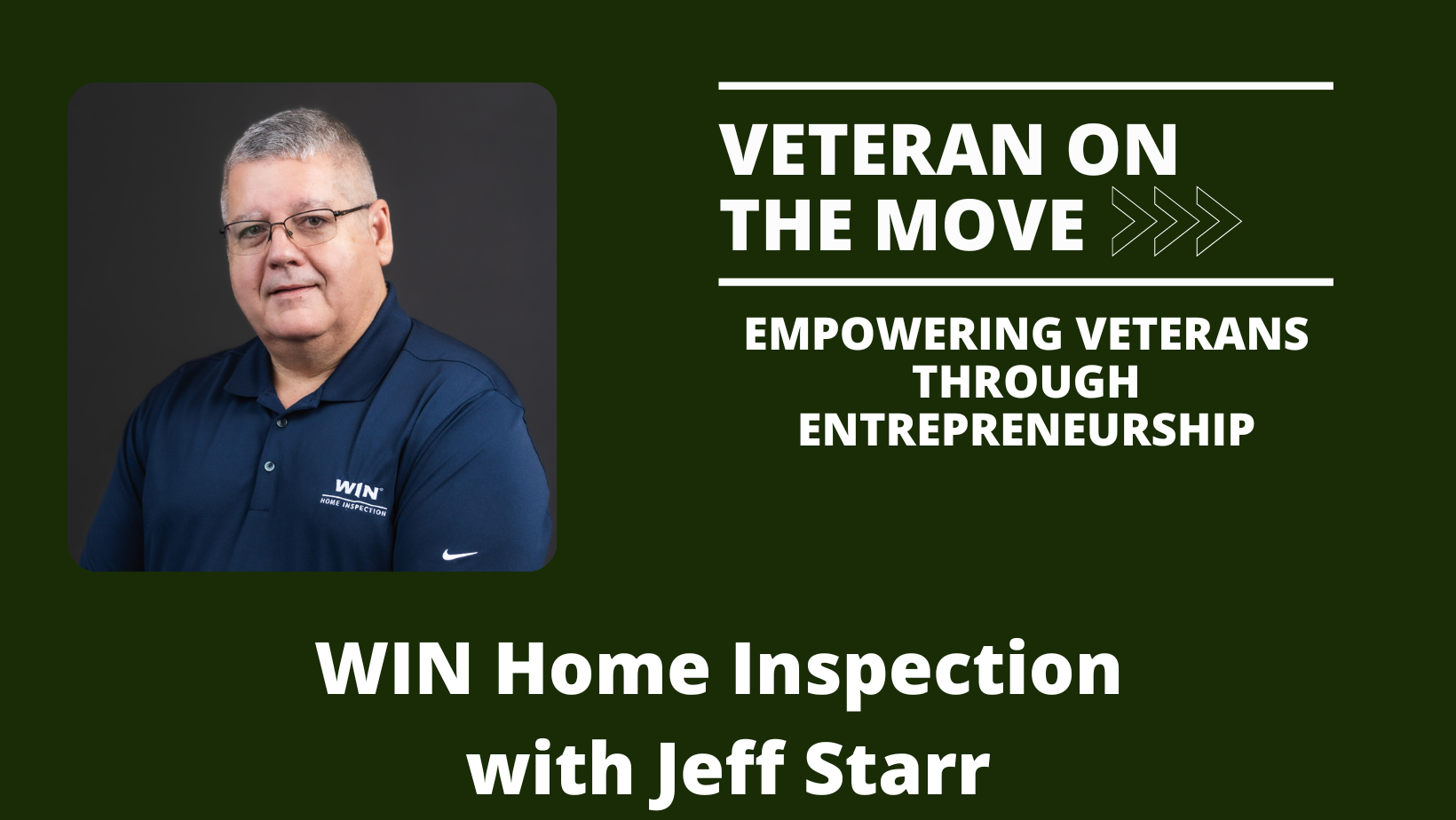 Podcast: Play in new window | Download
Joining Joe for the 500th episode of Veteran On the Move is retired Coast Guardsman and Entrepreneur Jeff Starr. Jeff started his military career at 17 with the National Guard and went on to serve in the Coast Guard for 30 years as an Aviation Electronics Technician. He prepared for eventual separation from service; pursuing higher education and later entered the civilian sector. Seeking an improved quality of life and flexibility, Jeff turned to entrepreneurship and became a franchisee with WIN Home Inspection. He shares why he decided to partner with WIN and the importance of finding a company that matches your values. Learn more about WIN Home Inspection here. 
About Our Guest   
Prior to joining WIN Home Inspection, Jeff Starr served 30 years and retired from the U.S. Coast Guard. As an Aviation Electronics Master Chief Petty Officer (AET), he worked as an AET from Alaska to Florida but spent the majority of his time in Michigan in both Traverse City and Metro Detroit area serving the interest of the American public. After the Coast Guard Jeff worked in the Auto industry in facility management taking care of the daily maintenance needs of a two million square foot fifty acre complex. Jeff completed an undergraduate degree in Management and post graduated MBA.
Join the conversation on Facebook!
Check out Veteran on the Move on Facebook to connect with our guests and other listeners. A place where you can network with other like-minded veterans who are transitioning to entrepreneurship and get updates on people, programs and resources to help you in YOUR transition to entrepreneurship.
About Our Sponsors

Navy Federal Credit Union 
Getting a new car is exciting, and you deserve a hassle-free buying experience. You can get a decision in seconds and enjoy great rates. With everything you need in one place, Navy Federal's Car Buying Center is your one-stop shop for researching, financing, buying, protecting and enjoying your next car. You can search for new and used cars, access vehicle history reports, enjoy discounts on auto insurance and more. And you can make the most of your time on the road, wherever you go, with our Flagship credit card. Whether you're taking a trip to relax or see somewhere new, you deserve a travel card that does the work for you. The Flagship credit card will earn you 3X points on travel, plus up to $100 in statement credits toward TSA Precheck or Global Entry and a free year of Amazon Prime. With 2X the points on all purchases outside of travel, the rewards don't have to end when your vacation does.
For more on Navy Federal's car-buying experience and Flagship Rewards, visit navyfederal.org. 
At Navy Federal, our members are the mission.   
Want to be our next guest? Send us an email at interview@veteranonthemove.com. 
Did you love this episode? Leave us a 5-star rating and review! 
Download Joe Crane's Top 7 Paths to Freedom or get it on your mobile device. Text VETERAN to 38470.
Veteran On the Move podcast has published 500 episodes. Our listeners have the opportunity to hear in-depth interviews conducted by host Joe Crane. The podcast features people, programs, and resources to assist veterans in their transition to entrepreneurship.  As a result, Veteran On the Move has over 7,000,000 verified downloads through Stitcher Radio, SoundCloud, iTunes and RSS Feed Syndication making it one of the most popular Military Entrepreneur Shows on the Internet Today.
Lorem ipsum dolor sit amet, consectetur adipiscing elit, sed do